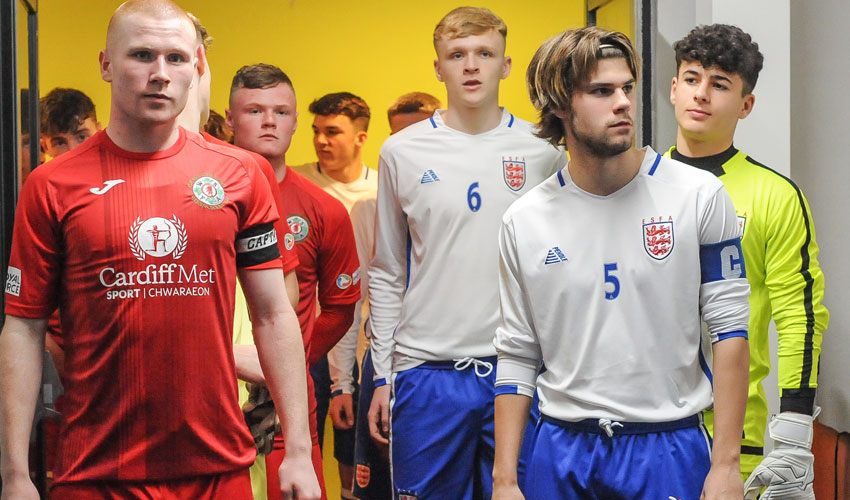 A talented young footballer at Bishop Burton College is following in the footsteps of some of the biggest names in the history of the English game.
Levi Tarbotton, 17, has been named the captain for England Schools in the Centenary Shield tournament.
The English Schools Football Association competition has previously been graced by the likes of Michael Owen, Rio Ferdinand and Ryan Giggs – helping propel them to football superstardom.
Centre back Levi, who is also captain of the college's further education boy's side, is hoping it will set him on the road to similar success in the future after being named in the 18-strong strong ahead of more than 2,000 other players across the country who took part in trials.
"I'd obviously like to make it as professional, so I just need to keep doing my best, put in some good performances and hopefully I'll get spotted," he said.
"Last year I represented the England Colleges team. I was selected for the college team again this year, as well as the England Schools team, and I had to pick one. I picked the schools team because I thought it was a better standard and likely to open a few more doors, and I hope that's what it does."
Footballer Says Progress Is Down To Time At Bishop Burton College
England is competing with Wales, Scotland, Ireland and Northern Ireland in the competition. Despite suffering a heart-breaking 1-0 defeat to an injury time goal in their first game against Wales, Levi was named the man of the match and is still confident of success.
He said: "It was a fantastic experience – apart from getting beaten in the last minute! I really enjoyed it and there were a lot of scouts there. It was a proud moment to be named the man of the match. Hopefully, we can improve and bring the trophy back after the last game."
Levi, who is a second-year Business student from North Ferriby, joined the college through its football academy programme after being talent-spotted playing for Humberside Schools Under 16s. He says his game has developed hugely under the expert guidance of the coaches at Bishop Burton.
"I strongly put my progress down to my time at Bishop Burton College," he said. "Before I came here I'd only played for a Sunday league team. I hadn't been at an academy.
"When the ball used to come to me I would just head it or kick it away. Coming here, training every day, playing on a Wednesday, recovering properly and everything – it has taught me an awful lot more about the game, especially with the coaches we have here.
They've really helped to improve me on the ball, in particular, which has made me a lot more confident."
Head of Football At Bishop Burton College Proud
Head of Football at the College, James Bennett, said: "Levi has done tremendously well since joining the football academy.
"He has taken on board the advice given to him and that has helped take him to another level, including achieving international honours two years in succession.
"We are proud of him and his development. I'm confident other players from the college will be just as successful in the future."
England will play Scotland next in the Centenary Shield, on March 22, followed by games against Northern Ireland on April 6th and Ireland on April 12th.
Bishop Burton College, which is the home of Hull City's academy, runs a range of sports courses and academy teams. For more information visit sport.bishopburton.ac.uk.