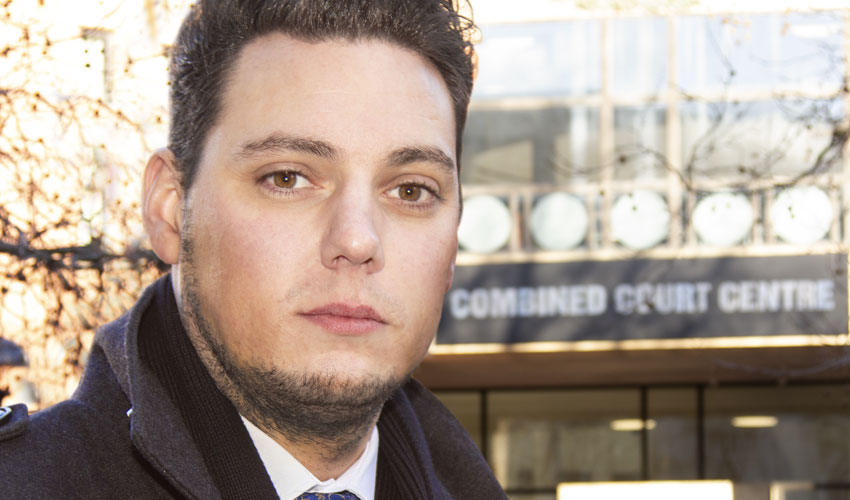 David Wade is a man on a mission, stirring up a legal hornet's nest with his people first, low cost, radical approach to the law.
Trading as David T. Wade, his Student at Law business is both unashamedly populist and highly effective, says the 32-year old, who set up his limited company in 2017 while still an undergraduate.
Student at Law offers legal services in Hull and East Yorkshire to the person in the street at rates far cheaper than traditional law firms and since he set up as self-employed in 2014, he has helped many clients with small claims, consumer matters, speeding, divorce, family, contractual, employment and landlord and tenant.
As a Mckenzie Friend and Lay Representative, he is limited by how much he can represent people in court and is unable to look after reserve legal activities covered by the Legal Services Act of 2007, such as probate, reserved instrument activities and administration of oaths.
"I help people and small businesses who are looking for an alternative low-cost approach to dealing with their legal affairs. The cuts to legal aid and the high price of private legal representation have left many to face things alone. I wanted to help," said Mr Wade who has now launched a Student at Law Business Model package to support students who might want to do what he has done.
"People come up to me regularly and say 'How do I do it?' It's not difficult which is what I want the Student at Law package to explain," said Mr Wade, who helps clients throughout Yorkshire.
People who sign up to The Student at Law Business Model https://www.studentatlaw.org.uk/ receive: a member-based advice forum, introductory and start-up support videos, business forms and service agreement.
"While the Student at Law Business Model aims to encourage other people like myself, in the end, it will also help educate the general public to look after their own interests.
"I just want to help people by continuing to do what I am doing, helping people in a way that is effective and successful."
Mr Wade, who started out in 2011 by helping his father in difficult times with credit card debts, is due to graduate from his Open University Law Degree (LLB) in 2019. Although he may also study for an MA Law Degree (LLM), he has no current plans to sit his Legal Practice Certificate (LPC) and pursue a traditional route into the law as a solicitor or a barrister.
"I really believe that my time and energy will be more usefully spent providing legal services to people who need the kind of help that they can't afford," he adds.
One of David T. Wade clients is Rebecca Smethurst, from Leeds, who said: "Fantastic affordable service, to the point, gets done what needs to be done with an empathic side towards the client too, which, when dealing with legal proceedings and the stress that comes with it, can help a great deal more. Would definitely recommend David to anyone looking for a legal representative and will use him in future. David goes above and beyond for you as a client and I am very grateful and satisfied with the service provided."
Another client, Chris Clayton, from Hull, said: "I am absolutely adamant without David's help, experience and expertise I would have been like a fish out of water, I would recommend him and his team without any hesitation to anyone who needs legal help and advice, should I need any legal advice in the future, he will be the first person I will be calling."
Mr Wade is the first to admit that his work has not always proved to be popular with the legal community.
"The law industry is in the middle of great changes and with the lack of available legal aid people can't afford £150 an hour legal bills, not just the working class but the middle classes."
To that extent, he sees himself as meeting the changing needs of the industry and is only a disrupter by default.
"The law isn't the same as it was five years ago. I'm not a disrupter, I'm just meeting the needs of people struggling to afford a changing, fragmenting industry. If what I'm doing isn't helping people then why do people continue to contact me for assistance?
"I'm not going out to undercut law firms by doing this, I'm just using my own abilities and research to help meet the demands of people who are not being represented. It's quite simple, really.
"The law is a like a game of chess, where the rules and board, white to move first, etc.; only when you come to court, the board is already set out with the pieces in play. You then have to decide what the options are: can we win the game from here? Can we draw it or do we have to concede?"