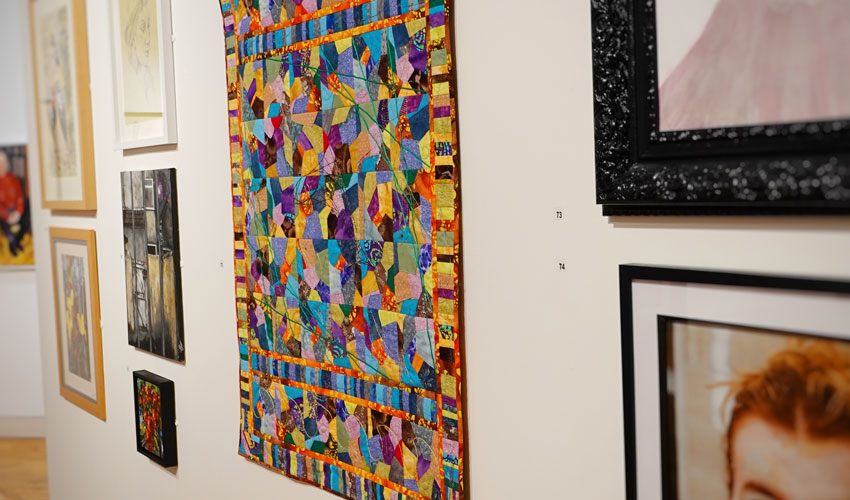 An Annual Exhibition that celebrates some of the best artistic talents in the region is now open.
Being held at the Ferens Art Gallery organisers say it is a fantastic opportunity for local artists.
More than 300 artworks have been selected by a high-profile panel of judges. It included the Senior Curator at Humber Street Gallery.
Other judges also included John Heffernan, BBC Arts Correspondent Rebecca Jones, and Visual Artist Ian McKeever RA.
This year there is certainly a fascinating array of artwork. Paintings, sculptures, photography, ceramics, textiles, film and jewellery all feature. All of this work has been produced by local amateur and professional artists.
This highlights the contribution and quality of creativity in Hull and the surrounding area.
Claire Longrigg, exhibitions officer at Ferens Art Gallery, said;
"This is a captivating exhibition that explores people's interpretation of art. It offers a unique opportunity to display their submissions alongside world-renowned artwork."
"It is also fantastic for Hull that we have an annual exhibition to showcase the exceptional local and regional talent. The exhibition is certainly always hugely successful."
The annual event remains central to the Ferens commitment to supporting and developing local artistic talent.
Artworks in the Open Exhibition can be purchased throughout the duration of the exhibition. A catalogue for £2.50 is also available from the gallery.
Gary Saunt Also Features At Annual Exhibition
The 2019 exhibition includes a striking work by local artist Clare Holdstock, Air Pockets in Assorted Colours, Jesmonite casts of inflatable pillows.
Clare creates abstract interpretations of often mundane objects. She explores their textures and subverting their transience by making them permanent.
Also included in the exhibition are works from artist Gary Saunt. He creates complex digital works incorporating a variety of local scenes and everyday objects.
Prize winners were announced at a private event. The prizes have been provided by sponsors the Friends of the Ferens and local business BSB Architecture.
This free exhibition runs until Sunday 14 April at Ferens Art Gallery. The Gallery is open Monday to Saturday 10am to 4.30pm and Sundays 11am – 4pm.