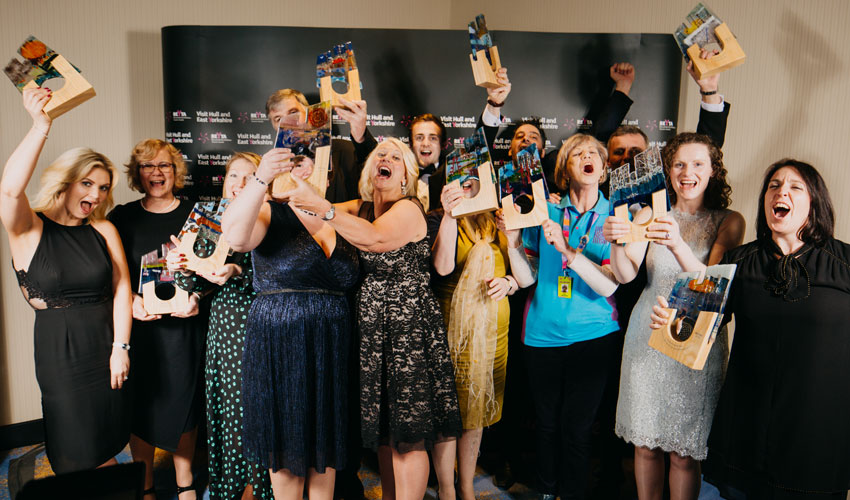 Tourism businesses across Hull and East Yorkshire are being urged not to miss out on the chance to grab an industry "Oscar" and put themselves firmly in the spotlight.
The "go for glory" fanfare was sounded by Visit Hull and East Yorkshire tourism manager Andy Gray with the deadline for this year's Remarkable East Yorkshire Tourism Awards – the REYTAs – fast approaching.
The deadline to enter, which can be done free and online at www.visithullandeastyorkshire.com/reyta, is Friday, January 18, after which a shortlist of finalists will be drawn up. Judging will then take place via independent panels and mystery shopping, ahead of the finals night at Hull's showpiece Bonus Arena on Thursday, March 14.
2019 marks ten years since the awards were first held and in that time, the value of tourism to the area has grown from £698 million to £878 million annually and is responsible for an additional 4,000 jobs.
This year's awards night is expected to be the glitziest ever, marking a decade of growth for the industry. "We certainly have some exciting plans for the evening that will get people talking. We are delighted to be bringing the event to the Bonus Arena which itself has had a huge impact on the region since it opened in 2018," said Mr Gray.
For 2019, there are 14 REYTAs up for grabs, including a new category – Remarkable Food Experience – which is open to establishments and organisations providing a consistent quality food or drink experience outside of a traditional restaurant setting, including breweries, vineyards and food/drink festivals and markets.
"There is always a tremendous buzz around the REYTAs, not least because it's a showcase for all that's best about Hull and East Yorkshire," said Mr Gray. "They are regarded as the Oscars of our tourism industry and attract massive media attention.
"I would urge everyone to get their entries in as soon as possible ahead of the deadline of January 18. Previous winners tell us what a difference it makes, not only for staff morale but for marketing themselves to a wider audience. They are a kite mark for quality."
One of those who triumphed in last year's awards was Christian Carver, owner of one of the region's newest tourist attractions, William's Den, the adventure play centre at North Cave, which includes a 475 square metre play barn and extensive outdoor play, including a 50-metre zip wire. Indoors there's a bespoke play adventure including a stream, rainmaker water cascade, unique climbing structures, nets, treehouse and bridges.
Opened in June 2017, it won the remarkable East Yorkshire Newcomer Award; the first of many scooped by William's Den since. It was, says Mr Carver, a reward for all the hard work that had gone into an attraction that has attracted more than 150,000 visitors since it opened. Mr Carver said: "William's Den is a place where children can run, splash, jump and climb their way to the 'best day ever'. We want kids to have the freedom to play outside, get lots of fresh air, always finishing their day at William's Den with rosy cheeks and big smiles."
Mr Carver echoed other REYTA winners in saying how much it helped market William's Den as a place of excellence to the widest audience possible and his message to other tourism businesses, whatever their size, was to enter the 2019 awards.
"They're free for a start, which means there's nothing to lose and everything to gain. We researched every aspect of William's Den over several years to ensure we would provide the best day out for families to enjoy together. It continues to be a labour of love for us all at Team William, so we are over the moon to be recognised for all our efforts to provide a family visitor attraction in Yorkshire".
The full list of categories for the 2018 REYTAs are as follows:
1. REMARKABLE Hotel: Open to full-service hotels of any size that offer a minimum of reception, bar, dinner and breakfast to provide the best overnight stay and the highest standards of accommodation in Hull and East Yorkshire.
2. REMARKABLE Bed & Breakfast: Open to all types of guest accommodation, including B&Bs, guesthouses, boutique accommodation, farmhouses, inns, and restaurants with rooms that provide the best overnight stay and the highest standards of accommodation in Hull & East Yorkshire.
3. REMARKABLE Self Catering Provider/Property: Open to all self-catering accommodation, including serviced apartments, houses, cottages, flats, lodges, tepees, yurts and shepherds huts.
4. REMARKABLE Taste of East Yorkshire: This category is open to producers, processors or growers of local food and drink products, vineyards, breweries, farms and co-operatives. Entries must demonstrate creativity in their use or production of local produce, how the produce is made available to customers and creative marketing.
5. REMARKABLE Food Experience: Open to establishments and organisations providing a consistent quality food or drink experience outside of a traditional restaurant setting, including food/drink festivals. Entries must be able to demonstrate a quality visitor experience or attraction as part of their offer, such as tasting experiences, courses or demonstrations and/or engagement with the visitor.
6. REMARKABLE Cuppa: Open to any tourism business such as tearooms, café, hotel or visitor attraction, that serves the best cup of tea or coffee and refreshments in Hull and East Yorkshire.
7. REMARKABLE Restaurant: The restaurant, hotel or pub that serves the best food in Hull and East Yorkshire.
8. REMARKABLE Pub: For the best pub in Hull and East Yorkshire serving the highest quality of bar food and beverages in the finest surroundings in the region.
9. REMARKABLE Business Tourism Award: This award acknowledges the huge importance of business visitors to the meetings, conferences and exhibitions sector in Hull and East Yorkshire. Open to any organisation in the business tourism sector including exhibition centres, convention hotels, country house properties, conference, banqueting and training venues.
10. REMARKABLE Holiday Park/Holiday Village: This award recognises Caravan and Holiday Parks, Touring Parks, and Camping and Touring Parks that have boosted business by making the most of their distinctive appeal.
11. REMARKABLE Newcomer: This award is for a newcomer to the Hull and East Yorkshire tourism industry. Individuals and tourism businesses may apply including attractions/experiences, food and drink providers and accommodation establishments that have set up between 1st January 2017 and 30th June 2018.
12. REMARKABLE Visitor Attraction/Experience: What is the best tourism attraction or experience in Hull & East Yorkshire that puts a smile on visitors' faces and creates special memories? This award will be given to the tourism attraction/provider that delivers an outstanding and unique experience.
13. REMARKABLE Tourism Event: What is the best event, experience or festival in Hull and East Yorkshire that takes place over a day, weekend, week, month or season? The event can be free or paid for; a one-off happening or a rolling series of annual events.
14. REMARKABLE East Yorkshire Passion: The person is selected by the Visit Hull and East Yorkshire Advisory Board Group who in their judgement has made a significant contribution to tourism in our region. Nominations are invited from the local tourism industry.