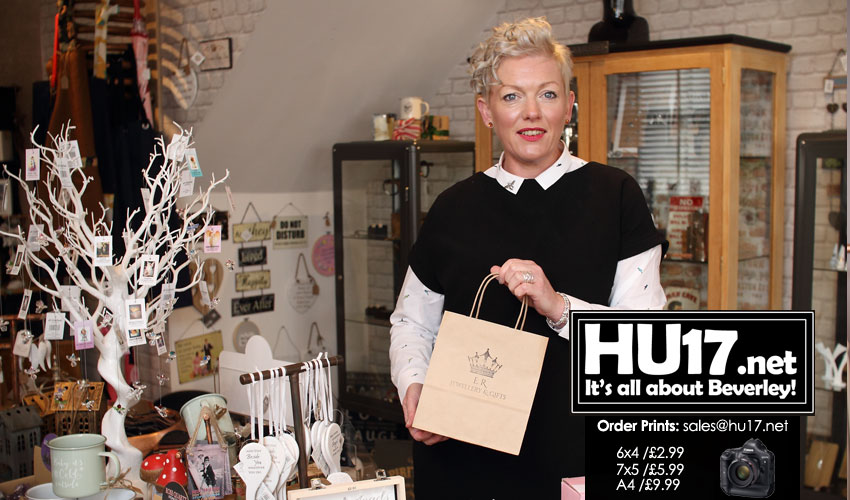 Emily Rea Jewellery & Gifts is a unique shop that has opened on Flemingate, by the rail crossing.
Business owner, Emily Rea is a local girl and says her shop brings a unique set of products to Beverley.
Having spent ten years managing a store in Beverley, Emily was finally ready to do for herself opening Emily Rea Jewellery & Gifts.
Speaking to HU17.net Emily explained more, she said;
"I have lived in Beverley my whole life and have always wanted to own my own shop in the town."
"Opening this shop is a dream come true for me. It is a family run business. I am very lucky to have the support of all my family."
"There is a gap in the market for the jewellery and gifts I am offering in the shop. Also, they are different from what is already available in Beverley."
"For the past few years, I was the manager of Xen. As result, this gave me the experience and knowledge I needed to enable me to open my own shop with confidence."
"Also, this experience has helped me build good relationships with customers both local and visiting. Customer service is something I pride myself with."
Emily Rea Jewellery & Gifts Explain Their Choice Of Location
Emily said she wanted to be in Beverley because it the town she is from and also has a love for. Her choice of location has also proved to be a wise move. She said;
"This location was picked because it is in between the Flemingate railway lines and the Minster. My shop also has a fabulous corner window display to entice customers in."
"Another reason is that it has three parking spaces to the rear for customers only."
"There are no overpaid rates to pay which will hopefully give me a better chance of success. The shop also a good pass by footfall from people shopping between Beverley town centre and Flemingate."
"The footfall is immense and I am meeting new faces daily which is great."
Emily Rea Jewellery & Gifts is open six days a week from Tuesday through to Sunday and is located at 16 Flemingate, Beverley HU17 0NR.