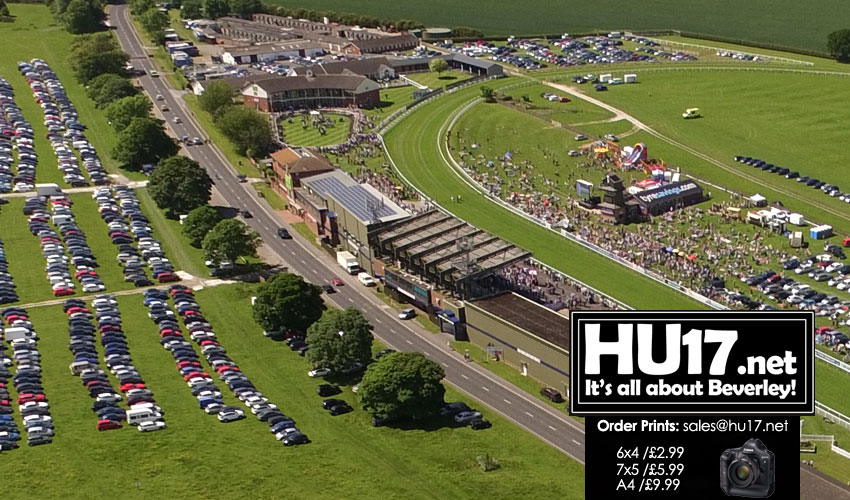 Beverley Racecourse is celebrating a memorable 2018 season, on and off the track.
The Westwood course enjoyed bumper attendances throughout the season as the Beverley Races team introduced a series of initiatives designed to provide an excellent raceday experience and improve inclusivity and accessibility for all.
The season also saw the announcement of plans for a new £4.8m grandstand featuring top-quality facilities for racegoers. The investment, the biggest in the history of the course, comes as Beverley continues to develop a reputation for being one of Britain's most innovative and forward-thinking racecourses.
Average raceday attendances rose by almost six per cent year-on-year over the course of the season, despite a washout on opening day, as a total of 80,000 people flocked to the stunning venue. That meant the racecourse equalled last year's total attendance, despite one fewer raceday.
Following a similar six per cent rise in attendances in 2017, Beverley is continuing to buck a national trend of decline in racecourse visitor numbers.
Among the highlights of the season was another hugely successful Flemingate Ladies Day in August, which attracted 12,000 people, up by 1,000 on 2017. This year, the glamorous event included an appearance by Love Island star Chris Hughes, who judged the ever-popular most stylish man and woman competitions.
Other memorable moments included a visit by Beverley-born A-list actress and Poldark star Eleanor Tomlinson, who started the much-loved Donkey Derby during A Very British Raceday in June.
Meanwhile, the course witnessed an exhilarating first, in the shape of "horse-boarding", which involves a horse rider tow a board rider at high speeds. September's Beverley Bullet meeting saw the racecourse set a world speed record for the extreme sport.
Beverley Racecourse Chief Executive Sally Iggulden said:
"It has been a memorable year at the racecourse and we're absolutely delighted with another rise in average raceday attendances.
"This season we knew we would be competing with the football World Cup, so we decided to make the most of it, and our raceday on July 7, which coincided with England playing Sweden in the quarter final, turned out to be one of our busiest and best meetings. We showed the game on a big screen and there was a fantastic atmosphere.
"The feedback from other courses in Yorkshire is that attendances are generally down year on year, so we're thrilled to be bucking the trend. I believe that's due to our focus on the quality of the raceday experience and innovative thinking that is making this course more accessible, inclusive and popular than ever before.
"I must pay also tribute to the amazing efforts and incredible skill of our ground staff who, against the odds, were able to produce excellent and safe course conditions for horses and jockeys throughout the season, despite a very wet winter and an exceptionally dry summer."
Innovative events during the season included the staging of Britain's first deaf-friendly raceday, designed in partnership with the British Deaf Association.
The pioneering event included British Sign Language (BSL) interpretations of the build-up to races, displayed on a big screen, and extra training for staff to ensure that people with hearing impairments were able to enjoy fully a thrilling day at the races. It is hoped the initiative, which will be developed further throughout 2019, will be followed by other racecourses around the UK.
In July, the racecourse joined forces with Contact the Elderly, a charity dedicated to combating loneliness among older people, to stage a raceday tea party, when 80 local elderly people and volunteers enjoyed an afternoon of tea, cake and conversation, to a backdrop of top-quality horse racing and family entertainment.
And on May Day Bank Holiday, residents from three Beverley care homes were invited to the first Bygone Beverley event, when the course stepped back in time to recreate a raceday in 1960.
Meanwhile, Beverley continues to be a byword for excellence in raceday experience.
Throughout the season, celebrity chef Colin McGurran brought a cordon bleu dining experience to racegoers with a new "Signature" menu in The Attraction restaurant, thanks to a partnership involving his Winteringham Fields restaurant and the racecourse's exclusive catering partner, CGC Event Caterers.
It's a relationship the course will continue to promote in 2019, as it looks towards a bright future and its new grandstand, which will provide an enhanced customer experience and additional hospitality opportunities for racegoers.
Subject to planning permission, work on the new development is due to begin in September 2019, at the conclusion of next season's racing, and will include demolition of the existing 1960s main stand.
Marketing Manager Kate McKee said she was proud of the innovative approach the course had taken to engage with members of the community who might not otherwise enjoy racing at Beverley.
She said: "It was a very rewarding experience to see our efforts to improve inclusivity and accessibility pay off by staging events such as Britain's first deaf-friendly raceday and our tea party for isolated elderly people.
"We have been helped along the way by some wonderful community partners, such as the British Deaf Association and Contact the Elderly, and we look forward to harnessing their expertise again in 2019 as we continue to build on these successes.
"We're excited to be pioneering such inclusivity initiatives for the racing industry and championing the cause of making racing accessible to all."