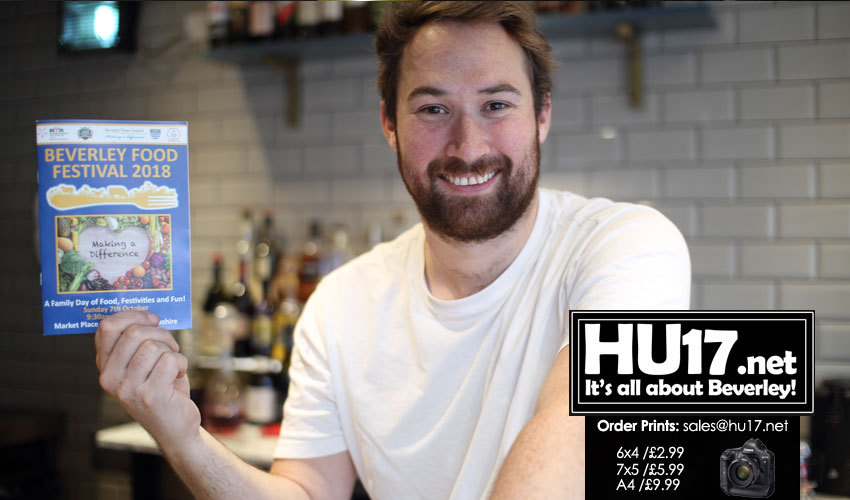 Pig and Whistle owner, James Allcock says he is looking forward to this year's Beverley Food Festival and having a stall at the event for the first time.
James, who opened his Sow Hill bistro in June 2017 feels the Beverley Food Festival is a great opportunity to meet food lovers and others from the industry.
Speaking to HU17.net, James explained more about how he is getting involved in the event, he said;
"The Beverley Food Festival is a great event for the town. It brings in thousands of people who have a passion for food and it is a good way for Beverley to showcase the eateries on offer in the town."
"We are really pleased to be taking the Pig and Whistle to the Market and being part of the event. Our stall will sell things we use, so people can recreate the Pig and Whistle experience at home."
James says the event presents him with an ideal opportunity to network with others who work in the food sector, he said;
"Having such a prestigious event on my doorstep gives me a chance to meet with others inside the food industry. A number of my suppliers go and there is also the potential to discover something new."
"I will certainly be taking a good look around and trying the various foods that available at the Food Festival. It is a very important event that promotes and celebrates local food ."
This will the 13th year the award-winning event has been staged in the Beverley. With over 100 stalls, live food demonstrations coupled with entertainment it is an event for all the family.
Taking place at 9.30AM on Sunday 7 October, the Beverley Food Festival will be officially opened by Mayor of Beverley Cllr Bryan Pearson at 10 AM.