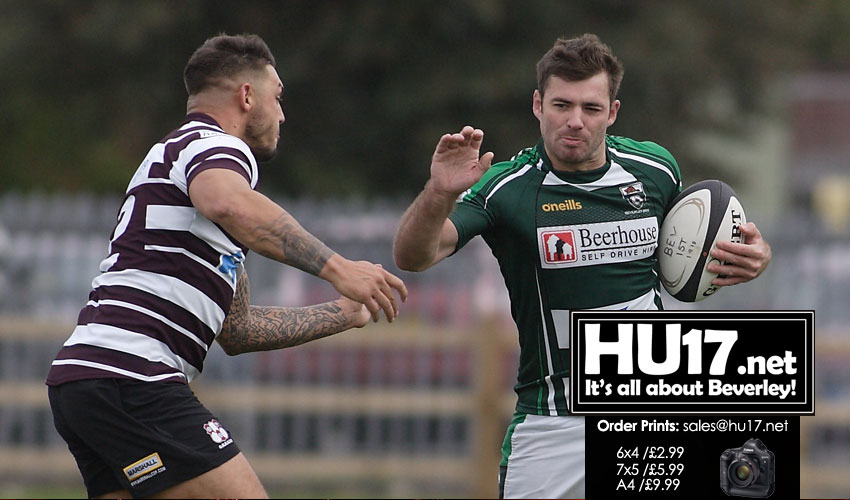 In the end a comfortable win which took Beverley RUFC up to second place in Yorkshire One. After twenty minutes this match looked like being a whitewash.
Beverley were then already twenty four points up with a four try bonus point in the bag. But by the time the game went into its last quarter it had all changed and Beverley, while not exactly hanging on, were certainly having their work cut out to finish with the win.
Not for the first time it was ultimately left to Luke Hazell to see them over the line with a clinching try.
The first quarter was a purple period for Beverley. They were ahead after five minutes through a try by Alex McPeake which Rob Smith converted and five minutes later a nice break by Jacob Holmes led to Hazell going over in the corner for another. A feature of Beverley's play during this time was their willingness to move the ball quickly and keep it alive out of the tackle. Rishworthians could find no answer and were simply not at the races.
After seventeen minutes Beverley broke away from their own 22 and some smart interpassing between Hazell and Will Turnbull ended with Hazell crossing for his second try. Another quickly followed, touched down by Raymond Coates after some spectacular dodging about by Smith on the visitors 22.
After that it all rather went downhill. Beverley increasingly lost their edge and Rishworthians steadily got back into the game. A try under the posts just before halftime by wing William Mcdonnell following a penalty kick to the corner got them on the scoresheet and with Joshua Kelly adding the conversion they turned round 24-7 adrift.
Beverley might have added to their lead straight from the restart but after a series of forward drives on the visitors' line they were penalised for hanging on. For the next twenty minutes it was as near as they were going to get. Rishworthians were now playing with flair and a renewed confidence. Some smart interpassing from halfway brought them a try by scrum half George Wright and this was quickly followed by another in the corner for Mcdonnell.
Suddenly it had become 24-17 with only one converted try now separating the sides. Moreover all the momentum was with Rishworthians and Beverley could hardly get their hands on the ball. They looked dangerous when they did but it was not happening often enough to pose much of a threat.
With a quarter of an hour left salvation was at hand. A Beverley attack deep in Rishworthian territory went wrong, the ball was lost and Rishworthians kicked clear upfield. Unfortunately hoisting a high kick upfield where Hazell is waiting underneath it is seldom a good idea. Hazell fielded the ball just outside his own 22 and set off on a mazy run – up to halfway; up to the 22, leaving a trail of would-be tacklers in his wake; clear for the line; and over in the corner. Not only was it the try of the day but it was exactly what Beverley badly needed.
Thereafter with a twelve point cushion and time running out they were able to see the game out comfortably. Rishworthians stuck at it bravely but now with little real hope of recovery. Beverley actually had a good final ten minutes and could have added a last minute try but Hazell's try-scoring pass inside to James Graham was knocked on and the chance went begging.
So in the end a good result for Beverley but still signs, it must be said, of a slightly worrying capacity for letting their opponents off the hook instead of going for the kill when they are in full control.
Final Score : Beverley RUFC 29 Old Rishworthians 17 | Reported by John Nursey