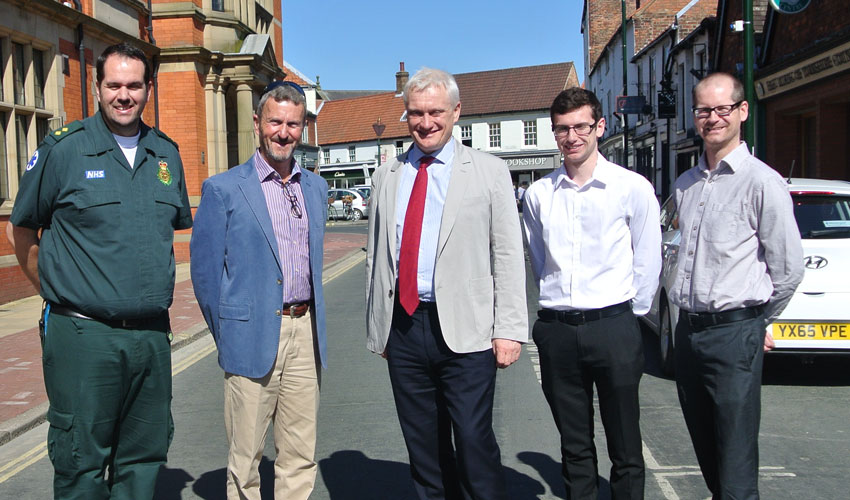 Beverley and Holderness MP Graham Stuart has praised 22 year old Beverley resident Jordan Moor for the hard work he does campaigning and raising money for defibrillators in East Yorkshire.
Jordan Moor, who is a key member of Graham's Community Access for Defibrillators in East Yorkshire 'CADEY' campaign, has raised over £25,000 since June 2017 and helped many local communities install AEDs.
The list of villages in the East Riding to beenefit include Beeford, Leven, Long Riston, Arnold, Kelk, Catwick and New Ellerby with two more just waiting for an electrician at Sigglesthorne and Bewholme.
Graham commented;
"Since the sudden and unexpected death of his much-loved step-father, Dr Alan Sykes, who gave decades of service as a GP to Leven and Beeford Medical Practice, Jordan has worked tirelessly to make sure local residents have access to a defibrillator should the worst happen.  
"He has raised a staggering £25,000 and helped so many communities and I want to congratulate him for taking the initiative and striving to provide these increasingly important and needed devices.  
"It is a pleasure and a real asset to have Jordan involved with my CADEY campaign. His ideas with regards to obtaining funding and his wider knowledge on the subject are of great benefit to us.  
"Jordan carries out this vital work while studying for his degree; he is truly an inspirational young person".
Fellow CADEY Campaign member Warren Bostock of Yorkshire Ambulance Service also commented:
"Working with Jordan is very humbling. He has worked so hard fundraising for Community Public Access Defibrillators (CPADs) for his local community in memory of his stepfather Dr Alan Sykes. So far Jordan and his mum Yvonne have raised enough money for 12 CPADs with more in the pipeline. This will be a very fitting tribute and potentially save more lives across Beverley and Holderness."
Jordan Moor commented:
"I want to thank Graham for inviting me onto his CADEY campaign. It is a real privilege to work with him and the other members to help achieve the goal of full defibrillator coverage of East Yorkshire. He and the committee have been a great help to my personal campaign and I look forward to working with CADEY in the future."