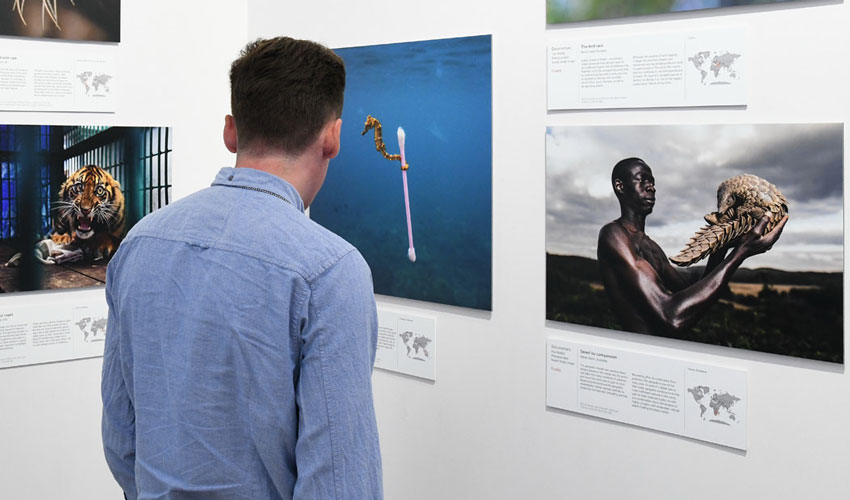 The Wildlife Photographer of the Year exhibition – developed and produced by the Natural History Museum – is coming towards the end of its run at the Treasure House in Beverley.
A free exhibition, it reflects the 53rd year of the competition, which welcomes entries from professional and amateur photographers in three age groups and runs till Saturday, 8 September.
For the 53rd competition, the international judging panel of respected wildlife experts reviewed almost 50,000 entries from 92 countries.
Visitors can see 100 acclaimed photographs from all the competition categories, featuring a huge variety of inspiring images.
Councillor Richard Burton, portfolio holder for leisure, tourism and culture, said;
"I am delighted that so many people have come to the Art Gallery once again this year to see this stunning and thought-provoking exhibition, which is not only enjoyable, but also gives real food for thought for young and old alike. Don't miss out on your chance to see it before it closes on 8 September!"
There is also one final special event to accompany the exhibition:
'Wildlife of Northern India' on Saturday, 1 September with award winning local photographer, Steve Race: at the Treasure House from 2pm to 3.30pm will see Steve showcase a collection of images showing the incredible wildlife in this beautiful country. Tickets are £5 each, and booking is essential.
Book for the talk at the website : eastridingmuseums.co.uk/wpy or call the booking line on 01482 392699 (Monday to Friday 9am -4pm).
Opening times for the Treasure House will be :
Monday, Wednesday and Friday : 9.30am to 5pm
Tuesday and Thursday : 9.30am to 8pm
Saturday: 9am to 4pm
Sundays : (15 July to 2 September inclusive) : 10am to 4pm