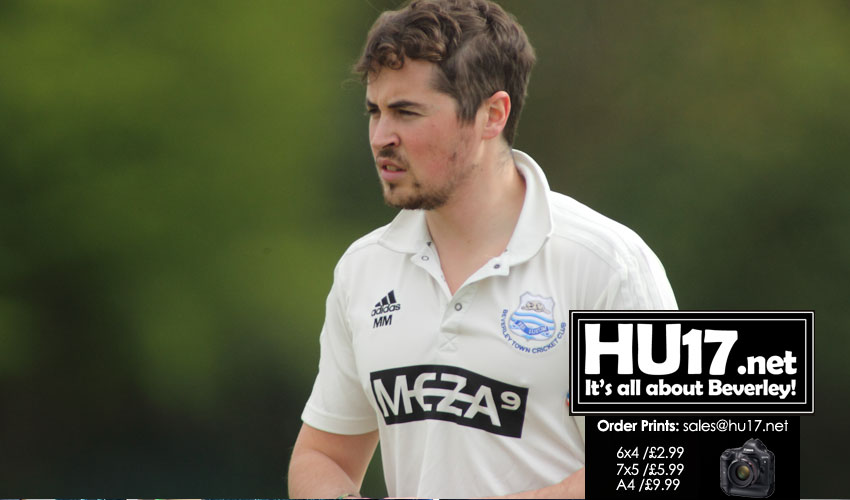 A busy Bank Holiday weekend for Beverley Town Cricket Club saw the 1st XI take 57 points from a possible 60 giving themselves a real chance of promotion.
The 2nd XI lost one game and picked up 27 points from their second to slip out of and back in to the promotion places; the 3rds won and then lost in two very tight finishes; and the 4ths rounded off their unbeaten season off in in style with a comfortable win.
York Senior League
Premier Division
Beverley 1st XI 89 for 3 beat Bolton Percy 1st XI 87 all out by 7 wickets
Bolton Percy won the toss and decided to bat first at Norwood and Beverley captain Andy Burton bowled his opening bowlers right through and was rewarded as Matthew Mudd took 3 for 29 and Kez Thompson 3 for 35. After thirty overs the visitors were 58 for 6. Change bowlers Jamie Roe (2-16) and Brad Graham (2-7) offered no respite and Bolton Percy were all out for 87 in 39 overs.
Ben Hatfield (16) was the only one of the top three to reach double figures as Town slipped to 35 for 3 in reply. Any worries disappeared when Olly Grantham (32 no) and Greg Whyley (22 no) came together to see Town to a comfortable win with half of the 50 overs still remaining. The win, on the back of four big winning draws in a row, sees Town clear in third place in the Premier Division.
Beverley 1st XI 220 for 7 drew with Studley Royal 1st XI 208 for 9
Bank Holiday Monday saw an exciting finish as Beverley entertained challengers Studley Royal at Norwood. Ben Hatfield and Harry Gamble added 78 for the first wicket until Hatfield was out for 41. Town lost two cheap wickets and when Gamble went for 57 with the total on 127 captain Andy Burton came to the crease. Mike Cooke contributed 13 but was one of three men out before Town had reached 200. Matt Mudd joined Burton and hit a very useful unbeaten 22 as he and Burton accelerated the run rate, Burton moving to 63 not out in Town's eventual score of 220 for 7.
Brad Graham took the new ball and had an early success but Studley had progressed to 71 before the next wicket fell, to Mudd. Only one run was added before Town struck again through Joey Franklin. Rain had reduced Studley's over allocation to just 48 and this was to prove important as the match progressed. Mudd bowled through for 1 for 32 and Franklin, stepping up from the 2nds, deserves credit for his 2 for 42. Jamie Roe turned in a good spell of 2 for 38 and Graham (3-80) returned to the attack as Studley closed in on the Town total but, in a tense finish, they fell short on 208 for 9 giving them 18 points and Town 27.
Division 1
Beverley 2nd XI 174 for 9 lost to Knaresborough 1st XI 175 for 6 by 4 wickets
Town 2nds lost ground in the promotion race when they suffered their first defeat since the end of June. Despite 48 from Will Parker and 50 from Ben Fish Beverley were only able to score 174 for 9 when asked to bat first at Knaresborough. Brad Dobson's 22 was the next highest score.
Knaresborough struggled against Connor Bowden (3-26) who picked up the first three wickets as they fell to 38 for 3. Town had to wait until the scoreboard showed 150 before they had their next success though and an excellent partnership was broken by Ed Chappell. Chappell (2-39) had one further success and James Emery took 1 for 40. Despite the early promise Town were left to reflect on one of their least outstanding bowling performances as Knaresborough passed the Town total with almost three overs to spare. Beverley slipped in to third place in Division One.
Beverley 2nd XI 225 for 6 drew with Harrogate 2nd XI 172 for 9
The 2nds bounced back from their defeat on Saturday and picked up a welcome 27 points from their trip to Harrogate. Town won the toss and batted and Will Parker and Tony Spence (25) added 54 for the first wicket. In the process Parker scored the 15 runs that took him past the 1,000 league runs mark for the 2nd XI in 2018. This fantastic achievement has rarely been done and he went on to make 88, fourth man out at 165. Brad Dobson (15), Rob Fish (16) and Ben Fish (20) provided the necessary support before Alan Acklam (35) and Tom Norton (13 no) added 46 in good time to help Town to 225 for 6.
Town claimed Harrogate wickets at regular intervals, including one to Ed Chappell (1-32), and at 127 for 4 the home side looked in little trouble. However, wickets for James Emery and Pete Parnaby (3-35) reduced them to 127 for 6. Another wicket for Emery (2-45) and two more for the returning Connor Bowden (3-47) saw Harrogate at 151 for 9 with, their challenge well and truly over, several overs to play out. They safely negotiated the remaining overs leaving Town to pick up another 27 points and a move back in to second place in Division One.
Holderness Division 2
Beverley 3rd XI 179 for 7 beat Driffield Town 3rd XI 177 for 7 by 3 wickets
The 3rds excellent run continued with a last gasp win over Driffield 3rds at Driffield giving them a fourth successive maximum haul of 30 points and maintained their third place in Holderness Division 2. Ranbir Singh claimed the first two wickets and produced good figures of 2 for 31. Kieran O'Brian took four of the remaining five wickets that fell recording 4 for 44 while Craig Foster took 1 for 44.
Town's reply centred around 73 from opener Tim Smith. Singh supported with 21 and Will Harrison's unbeaten 24 was vital to the run chase. Harrison and Foster were at the crease when the latter hit the winning runs from the penultimate ball of the match.
Beverley 3rd XI 143 all out lost to Welton & Brough 1st XI 147 for 7 by 3 wickets
The 3rds winning run came to an end against title challengers Welton at Norwood, but not without a fight, in a close game. Asked to bat first Kieran Simpson looked in excellent form until he was third man out at 74 for 38. Richie Singh (25) and Tim Fordon (26) were the only other batsmen to prosper and Town's 143 all out in 44 overs looked well below par.
Beverley responded well though and they bowled and fielded keenly with Singh (2-30) and Owen Parnaby leading the way. At 66 for 3 Welton were similarly placed to Beverley and Craig Foster put in another great bowling spell to claim 2 for 33 from 12 overs. When Kieran O'Brian (1-33) claimed the sixth wicket with the scoreboard showing 113 and Parnaby (2-40) returned to take the seventh wicket with no addition to the total Town were in with a chance. Opener Young, however, put in a determined display and batted through to remain unbeaten on 57 and Welton won with seven balls to spare.
Holderness Division 4
Beverley 4th XI 92 for 4 beat Brandesburton 2nd XI 88 all out by 6 wickets
The 4th XI wrapped up their season with a comfortable home win against Brandesburton 2nd XI. The visitors could only muster 88 all out and more than half of that total came from Sam Pashby (46 no) one of three Town players on loan from Beverley playing for the away side. 15 year-old Harry Smith (6-18) and 13 year-old Jacob Hunter (3-6) were responsible for the small total, both turning in excellent spells of bowling.
Graeme Taylor's 43 provided almost half of the Town response while Charlie Bough's rapid 13 brought his side to the brink of a win completed by Will Cammish in the 21st over. The 4ths, fielding players just making their way in the game, often from the Under 13s and 15s, some in the twilight of their cricketing careers and a fair few in-between, have remained unbeaten over the 18 game season, winning 15 of their games, a tremendous achievement under captain Kevin Thompson.