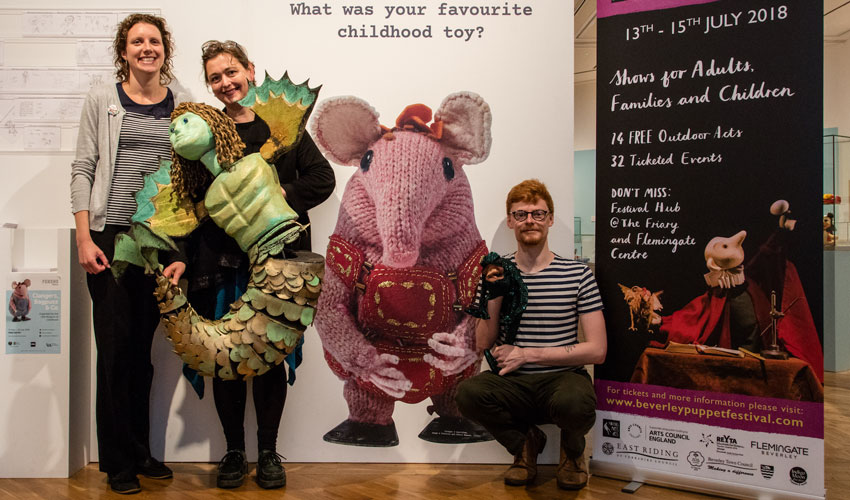 The Beverley Puppet Festival team is encouraging visitors to the July festival to stay a little longer and visit the V&A Museum of Childhood touring exhibition 'Clangers, Bagpuss & Co' at Hull's Ferens Art Gallery.
Not that enthusiasts need much more encouragement as the exhibition has been eagerly awaited by fans of Oliver Postgate and Peter Firmin's work.
Anna Ingleby, Co-Artistic Director for Beverley Puppet Festival, said:
"This is an important exhibition in terms of its recognition of puppetry and stop-motion animation as a far reaching art form. Many of us have fond memories of Noggin the Nog, Bagpuss and the Clangers and the magical worlds created by Smallfilms but the company also inspired many to become artists in their own right and still continues to do so. We are thrilled to have been given the opportunity to work with Ferens Art Gallery in the promotion of the puppet festival and are very grateful for their support."
This year's festival takes place from 13th – 15th July, coinciding with the Ferens' exhibition, which is on until 29th July. Thousands are anticipated to attend the festival, where audiences can expect to see shows across Beverley including Moomins, a life sized interactive Giraffe named Dolly, huge Saurus from the Netherlands and lots of children's favourites plus shows for adults too.
And visitors to the exhibition will discover original sets and filming equipment, see how characters developed over time and learn how Oliver Postgate and Peter Firmin developed their stop-frame animation techniques. The exhibition also includes a sensory area for under-fives and a Punch and Judy puppet theatre for children to create their own stories and shows.
Claire Longrigg, Exhibitions Officer at Ferens Art Gallery, said:
"Clangers, Bagpuss & Co is a family-friendly exhibition that is inter-generational and can bring the whole family together. Visitors can reminisce about their childhood, see original puppets and artwork, and also have a go at creating a stop-motion animation themselves. We hope Beverley Puppet Festival audiences will take the opportunity to pay a visit and be inspired to share their memories of these iconic characters.
"The gallery has recently been shortlisted for the Art Fund's prestigious Museum of the Year award, and it's the gallery's ability to programme a broad range of exhibitions for its visitors that makes it one of the UK's most outstanding art galleries."
Anna continues:
"The exhibition couldn't have been timed better for East Yorkshire given we are expecting thousands of puppet fans to descend on Beverley in July. We are encouraging everyone to extend their stay to our stunning part of the world and enjoy the festival in Beverley and the exhibition in Hull. There's so much to do, a weekend may not be long enough!"