Hull City Ladies will this weekend host FC Donop-Voßheide, a side from the town Lemgo which is twinned with Beverley.
Head Coach Danny Johnson says the game will be something new for his side to contend with while offering his championship winning team and chance to develop.
Speaking ahead of Saturday's match, Johnson said;
"It will be something new, especially playing a team from a different country; it will give our squad the opportunity to play against a team internationally. It will be great for their development; it will be great for the City as their home town is twinned with Beverley."
"It will be a great occasion and for our sponsors the University of Hull. We are going to give them a tour of the University and these great facilities, Beverley is right on our door step so we are hoping for some support at the game."
The match between Hull City Ladies and FC Donop-Voßheide came about due to a link between the club's Rachel Gay who used to run a Beverley Town FC team.
It will be a big day for Rebecca Beech who has been part of the squad for 19 years as the game will double up as her testimonial.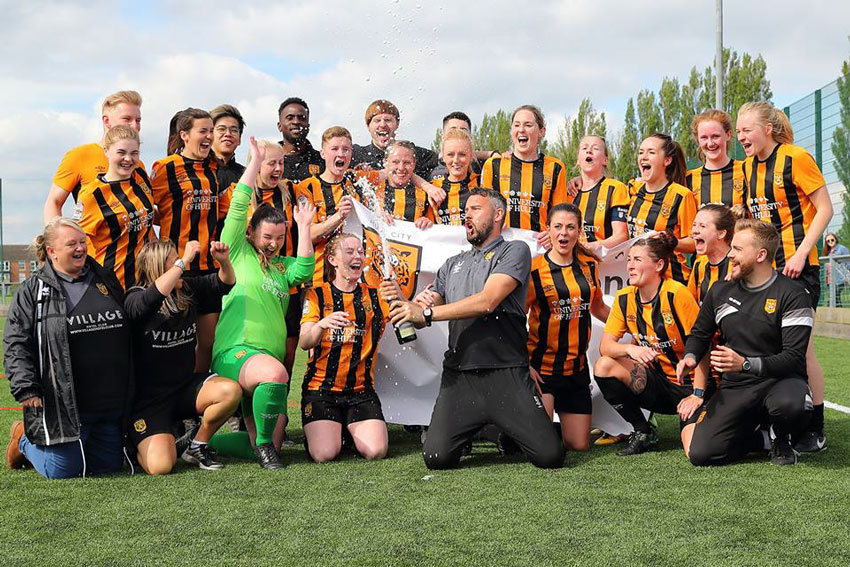 Speaking about the match Beech said;
"It will be interesting to see how a team from another part of the world play."
"I do remember in my time, playing against Wales and their game was a very tough strong outfit which I think shocked the girls at HCL at the time."
"Also it would be nice to have a great turn out of supporters. The fans this year really are increasing by number and they've been fantastic supporters for us."
Johnson added;
"It has been an honour to work with Beech, especially to achieve two promotions with her and multiple local cups."
"This year has probably been her best season. She is integral on and off the pitch. She has a full time job and a child so it's shows her commitment level."
Hull City Ladies host FC Donop-Voßheide at Hull University Saturday 2 June kicking off at midday. Ahead of their game at 10AM the youth teams will play a match.