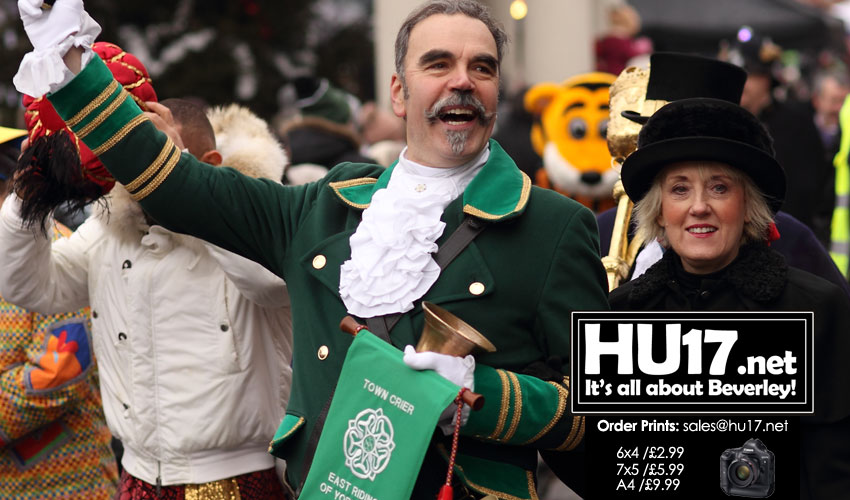 East Riding of Yorkshire's town crier, Michael Wood, has been crowned as the best in Britain for the fifth time after scooping the title at The Loyal Company of Town Criers (LCTC) British Town Criers' Championship over the bank holiday weekend.
The event, which coincided with the LCTC's 25th anniversary celebrations, saw competitors contest in the City of Ely, Cambridgeshire, and perform their 'home cry' for which they shout the praises of the areas they represent. Dry facts and numerous dates do not impress the judges, but creative writing does.
Michael's opening, that he particularly enjoys to deliver, includes the lines: "Great news folks, artist David Hockney's favourite county East Riding of Yorkshire awaits. Yes, be excited… especially people from Lancashire."
The county capital Beverley gets a mention as does Bridlington, the latter of whom Michael tells his audience that they should: "Experience an old fashioned donkey ride or perhaps an energising swim in Bridlington Bay… Acapulco of the Northeast."
Competitors included twenty of Britain's top professional criers, who also delivered a 'theme cry' based on "What the Romans did for us!"
Michael had the judges greatly amused with his typical comedic turn of phrase when he orated: "The Romans gave us straight roads (without potholes), town planning (without nimbyism), glass windows (with not a double-glazing-salesman in sight), also numeracy, literacy and orgies. Not forgetting the conga. That's right… the Romans came, they saw, they conga'd."
In winning the award, Michael was judged on his clarity and volume, enunciation and showmanship.
Having represented the East Riding over the past two decades, Michael is still full of enthusiasm for his unique role and is looking forward to what the next 20 years will bring.
"I am especially looking forward to 2021. That will be the year we celebrate the silver anniversary of the abolition of Humberside and the re-establishment of East Riding of Yorkshire. It is when I would love to stage a big competition here, maybe even a world championship," said Michael.