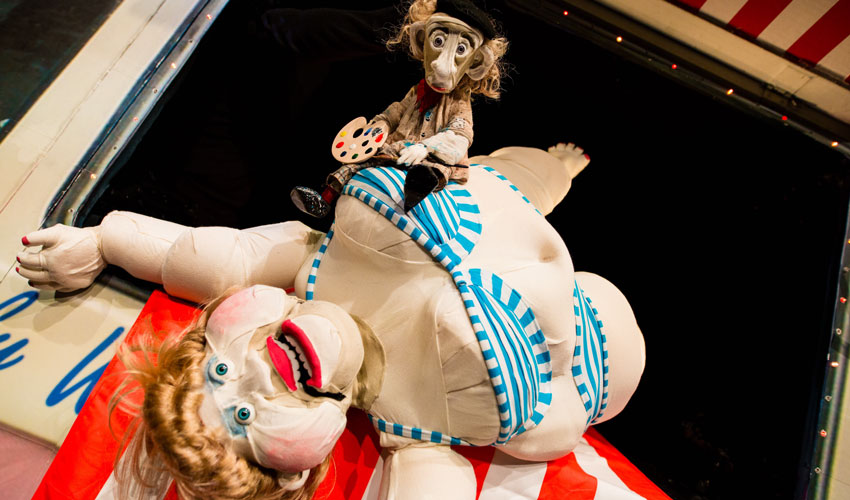 Friday 13th July marks the opening night of this year's eagerly awaited Beverley Puppet Festival with anyone who loves 1970s British horror and holiday camps set to be in for a treat.
Odd Doll Theatre will open the event with a retro-tastic comedy, Seaside Terror to give audiences fun frights and ice-cream chills!
Odd Doll aficionados will recall they previously visited the festival with The Worried Walrus and this time they are upping the ante by inviting festival goers to take a trip to the seaside to meet a sinister ice-cream seller who has a few strange stories to tell…
Festival Co-Director Anna Ingleby said;
"Following the success of our shows for older audiences last year, we felt this darkly comic production would be the perfect fit for a scarily tongue in cheek Friday 13th opening night."
"This year's festival takes place from 13th – 15th July, with performances from 30 professional puppet companies."
"Our aim is to include a diverse choice for all ages and our themed programme of 'transformations and journeys' includes specially chosen acts, ranging from a puppetry version of silent disco with miniature puppets, by Strangeface, to Headstrung's hilarious puppet cabaret with a strongman, escapologist and the Great Throwzini."
Further shows announced for the festival include Parachute and Watch the Ball by Stephen Mottram, an internationally acclaimed master of puppetry and festival favourite who fuses artistry with neuroscience and demonstrates the magic of puppetry as a story-telling medium.
And a new show, Transmographiles by Hopeful Monster Theatre, which was discovered for the festival when it was performed in the Moving Parts Scratch Tent at Skipton Puppet Festival.
Younger children will be taken on a journey to a world of magic, mayhem and moonlit adventures by One Moment in Time Theatre who perform the favourite story, The Enormous Turnip and also, The Necklace of Raindrops which is based on Joan Aiken's modern fairytales. And the highly acclaimed Lempen Puppet Theatre from Skipton are set to delight with Cardboard Carnival, taking inspiration from the music of Camille Saint-Saëns, a little help from Charles Darwin and a whole lot of cardboard.
Dolly the Giraffe will also make an appearance courtesy of VIP Puppets and Bird in Hand Theatre will bring their Special Delivery to local audiences. Festival goers will also be excited to learn that this year will also see the return of the much loved Little Fawn Caravan by Sokobauno Theatre and Prof Clive Chandler will be bringing Punch and Judy.
As in previous year's, Beverley Friary will be the daytime festival hub where, amongst lots of other activity, children will be able to make their own puppets with the return of the popular Scottish Mask and Puppet Centre's workshops.
More acts will be announced in due course, along with details on how to buy tickets. Anyone wishing to sign up for regular updates can check the festival website www.beverleypuppetfestival.com