Emmaus Hull and East Riding, an organisation that helps homeless people in the area has received a donation from Beverley Building Society.
Emmaus Hull and East Riding were voted by customers of Beverley Building Society as their charity of the month picking up £250 in prize money.
Emmaus shows that work is an important part of every day life, and by creating a structured day for the people they help, it shows them how to build relationships and become part of the community.
Research shows that for every £1 invested in a community, there is an £11 social, environmental and economic return, with savings to the benefits bill, health services and a reduction in crime reoffending.
Speaking to HU17.net, Kelly Louise, Community Leader for Emmaus said;
"We provide people with bed and reason to get out of it. We do this by helping people regain confidence and self esteem by encouraging them to work in our social enterprises."
"At Hull and East Riding we provide accommodation for homeless individuals and basically help them to get back to being independent."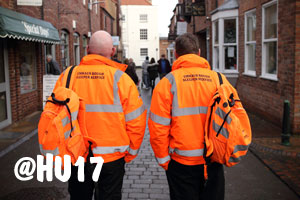 Kelly says the money that has been donated to them by the Beverley Building Society will be used to help fund their ongoing work in the local community.
In Beverley you may see some of the people that have helped walking the streets helping homeless people in the town.
Government figures show that there are over 300,000 homeless people in the UK, a figure that charities say is increasing.
Statistics also show that for every two hundred people in the UK one is homeless, making work that is done by Emmaus Hull and East Riding and other charities a vital community service.
Kelly explained a little about their projects, she said;
"Some of projects we have include three charity shops, three furniture superstores and we also have a workshop."
"We are very grateful to Beverley Building Society and their customers for voting for us, we are very thankful for their support."