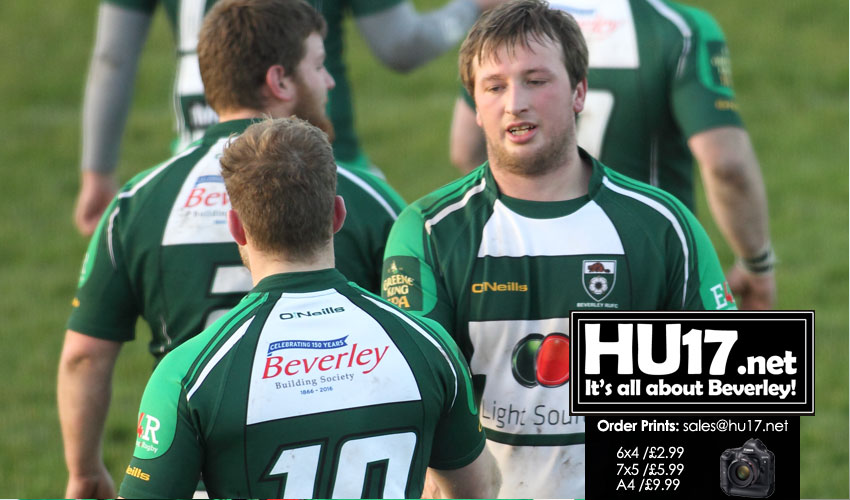 A five point bonus win but not one of Beverley's better performances. They got there in the end but it was heavy going and Wheatley will think themselves unlucky not to have gone away with at least a losing bonus point.
Beverley struggled all afternoon to come to terms with the chunky Wheatley forwards who ran powerfully and proved difficult to bring down. Beverley did score four tries but three of them came from isolated bursts into enemy territory. In the end they won because they took their chances when they got them.
Beverley started brightly enough and after nine minutes an attack down the middle brought a try for prop Raymond Coates which Joey Franklin converted. But as the half wore on Wheatley came more and more into the game. There was little memorable rugby on view but a powerful forty metre run by James Graham did briefly raise the spirits of the onlookers freezing on the touchline.
Early on Beverley were getting plenty of possession but they could make little of it and two penalties by Wheatley fly half Owen Gilvray reduced the lead to a single point at 7-6, which it remained until half-time. It was perhaps some achievement that Beverley, for about the first time this season, had survived for a full quarter of an hour before conceding their first penalty points which as a rule occurs in less than five minutes of play.
Any Beverley hopes that the somewhat portly Wheatley forwards would tire after the break were quickly dashed. They continued to pound the Beverley line throughout the half and were still looking the stronger of the two packs at the final whistle. After ten minutes a series of pick-up and carries got them over the Beverley line but they lost the ball in touching down. Beverley promptly lost the resulting five metre scrum and Wheatley scrum half Josh Taylor darted through to touch down. Gilvray converted from the touchline and Beverley found themselves 13-7 down.
Moreover they were now seldom able to get out of their own half although when they did they made it count. Within minutes of going behind a powerful drive by the forwards got them within range of the Wheatley line where the visitors were caught offside. Franklin's tap penalty was gathered on the burst by substitute prop Bill McLoucghin who crashed over from seven metres and the conversion put Beverley back in front at 14-13. Gilvray immediately had an opportunity to restore the Wheatley lead with a penalty but the kick, his easiest of the afternoon, went wide.
Wheatley continued to have the better of the play but ten minutes from time they fell further behind. A threatening Wheatley attack deep in the Beverley half went wrong when Will Turnbull wrestled the ball from his opposite number on the ten metre line and raced away for a third converted Beverley try. It took Beverley two scores clear at 21-13 and as good as settled the final outcome.
Nonetheless it was still nearly all Wheatley. But three minutes from time yet another rare Beverley counter attack ended with a deft inside pass by Junior Tupai putting Graham over to earn Beverley a four try bonus point. Wheatley kept going with plenty of spirit although in reality the result was really now beyond doubt. Eventually they did deservedly get a second consolation try when Gilvray seized on a Beverley chip through to touch down then add the conversion.
That Beverley largely kept their determined opponents at bay was a credit to them. Dale Hodgson worked tirelessly throughout, Coates had a good first half, and Rhys Innes did well in the line-outs. Luke Hazell had little opportunity but still posed a threat from full back. It was good to see Kris Renwick back in action but it was Franklin who especially stood out with a lively game at scrum half including converting four out of four kicks at goal, none of them particularly easy.
Final Score : Beverley RUFC 28 Wheatley Hills 20 | Reported by John Nursey