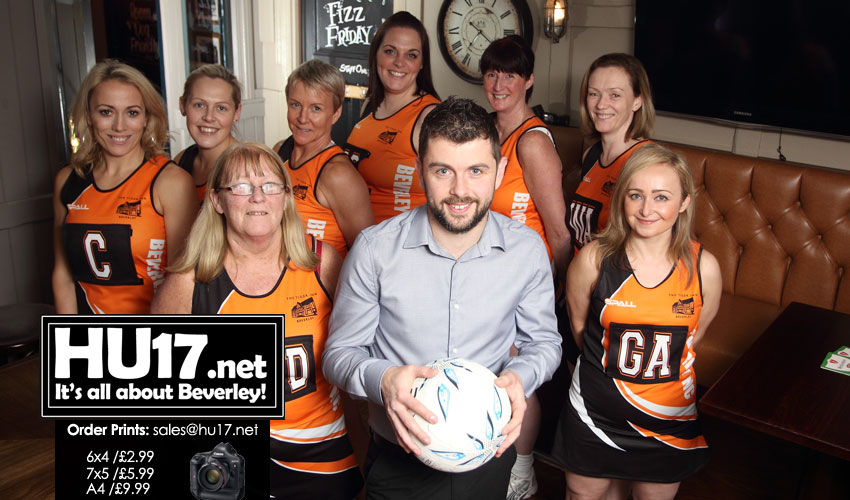 Beverley Netball Club have expressed their thanks to local publican Allen Slinger after he responded to calls for new club sponsor.
Mr. Slinger who runs Tiger Inn in Beverley has provided funds to purchase a new Black and Amber strip going them a professional look for the new season.
Speaking about how the deal came about Mr. Slinger said;
"I noticed on social media that the team were looking for sponsorship and thought it was a fantastic thing to get involved with by backing a Netball Team."
"A lot of the ladies who play for the team do not use the pub and as we are trying to get new people into the pub following our recent refit it made perfect sense, while supporting a really good cause."
Mr. Slinger has always been a keen supporter of local causes since he first arrived in Beverley. His choice to back a netball team continues his trend of supporting more niche based sports and social groups, he said;
"Football, Rugby and Cricket it would seem get a lot more financial support, so I felt it would be different to back a more niche sport that gets less backing."
"I hope they do really well, I think there is a promotion in the offering this season and I hope they do it. They said they're feeling very confident and they can do it."
Ainslie Webster who has been a member of the team for three years said;
"This agreement with the Tiger Inn is really important to us as a club. We have not had a new kit for such a long time."
" We really wanted to look like a team and be more professional as we did not have matching strip."
"Not only has Allen sponsored our strip he has also facilitated a fund raiser in the pub which has been a great help for us to boost our funds."
The side which is made up of ladies aged between 30 to 55 participate in the County League taking on teams of all ages.
She added;
"Everyone involved with the team would like to thank Allen for his support. We all very grateful and certainly feel a lot better now we all match!"