Beverley Town Football Club have moved to fourth in the Humber Premier after they beat Walkington AFC 2-0 in the local derby.
Town's boss Rich Jagger was full of praise for his side saying they all put in a full blooded committed effort to secure the win against a team that he felt did little to trouble them.
Speaking to HU17.net after the match Jagger said;
"I felt it was a dominant performance all round by the lads. It was a well deserved three points and another clean sheet."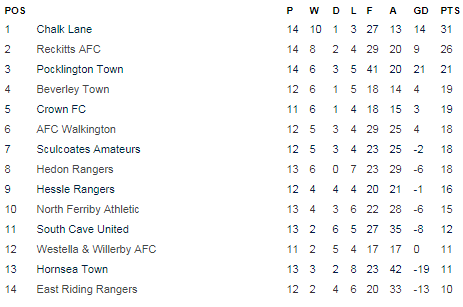 "It is always nice to beat your local rivals. I have a personal connection to Walkington having played for the club so it was nice to get a result against them."
"Keegan Rose was awesome, he bossed their danger man Jason Crisp. Rose kept on top of him all game stopping him from having any sort of influence in the match."
"Walkington were OK for the first ten minutes. But after that we were not really bothered by them."
"Over all I felt they never really caused us any problems. They have a young side who have enjoyed a good start in the Humber Premier League, we just had a little more than them today."
Town took the lead mid way through the first half thanks a to a looping header from defender Kurtis Bedford.
Town secured the points when Craig Muirhead scored a screamer from 30 yards out with just over 20 minutes left in the game.
Jagger named Matty Littlefield as The FIREPIT Man of the Match. He said;
"Matty deserved a lot of praise today. He worked his socks off for the team. He can't buy a goal at the moment but he put in a great shift in, hitting the post."
Littlefield was a thorn in Walkington's side all game and was unlucky not to win a spot kick as match official Michael Robinson awarded a free kick on the edge of the box.
Jagger when asked about the penalty shout said he did not see it, saying he was too far away from the incident.
In the Second half Town were forced to make changes as their skipper Ryan Saltmer had to come off due to injury, Jagger said;
"While I was forced to make the changes, it helped us had as Jordan Organ slotted in well adding more strength to our team."
Final Score : Beverley Town Football Club 2 Walkington AFC 0