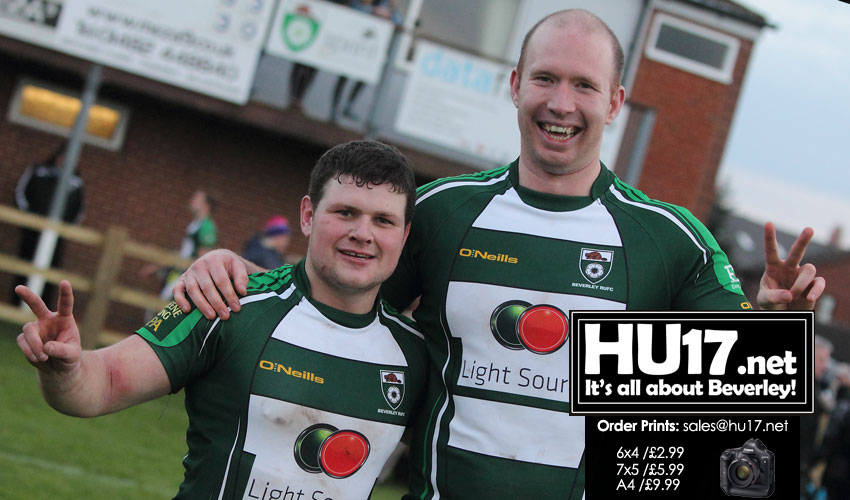 Beavers skipper Will Turnbull says his side were 'incredible' after they came from behind to beat Heath 33-30 at Beaver Park.
Beverley RUFC went into a match that many supporters felt would not be a good afternoon for the Beavers who scored in the dying seconds to snatch the win.
Speaking after the game, Turnbull told HU17.net;
"The boys were incredible and their attitude and heart to keep going was brilliant."
"Heath are the toughest pack in this league, very experienced and we came through that challenge."
The Beavers not only had the leagues toughest forward to deal with, they also had to face Jordon Bradbrook, one of most respected backs in the division.
Turnbull said his side did were not 'scared' of Bradbrook who was kept quiet for most of the game, he said;
"We were absolutely not scared of Bradbrook. We know he is a handy player. He didn't do anything worthwhile mentioning as we shut him down and in attack."
"We had him all day. He was petrified of Luke Hazell."
Make no mistake this was a tough game with some big tackles and aggressive play out of the eye shot of the referee.
Heath had a healthy lead though their choice to try and waste time and 'mess up the game' proved to be their undoing as Beverley refused to give up.
Their apathy towards the contest was felt by their travelling fans who were also feeling the pressure saying the game was too close for comfort.
In the dying minutes of the game their worst fears were confirmed after a strong run by James Graham set up Will Harrison to clinch the game.
When asked what kept Beverley focused when the game looked lost, Turnbull said;
"As for motivating, you only have to look and follow our skipper, Phil Duboulay. He's a Beaver through and through and the boys did it following him."
Heath will be back at Beaver Park next weekend in the cup. However they will face a much different side as Beverley look to blood some of their young talent.
Turnbull says they are going to be fielding a few Colts after hearing some great reviews about the sides performance.
Final Score: Beverley RUFC 33 Heath 30