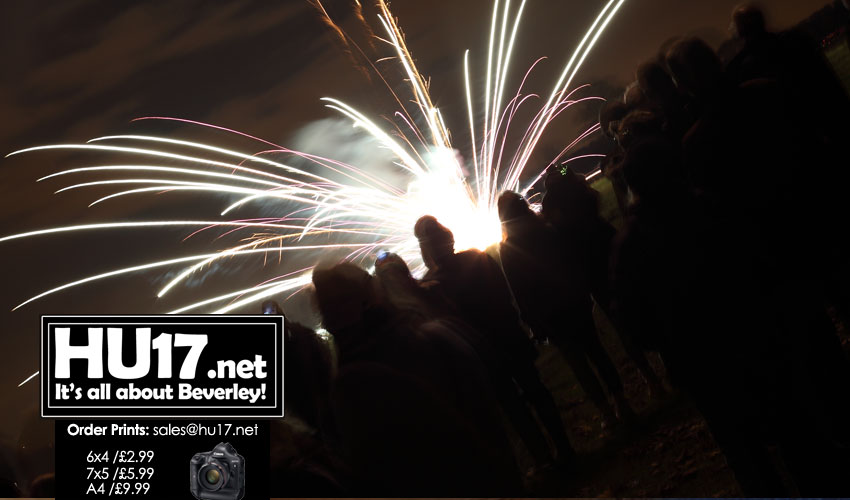 Judy Sagar from the Beverley Westwood Lions hopes people will dig deep and give generously at their annual Bonfire & Fireworks Display this Sunday.
Attracting vast crowds the Beverley Westwood Lions say they have invested more money bringing in stewards and also spending more on fireworks.
Speaking ahead of the event Judy said;
"I would like to urge people to give generously so we can ensure that we have the funds to stage the event next year."
"There will be a number of volunteers with buckets collecting donations on the night, every donation made will help make a difference."
"More money this year has been spent on fire works so the display is bigger. We have done this to mark the centenary of Lions Club International."
"We have also paid for stewards as the event is getting so big with huge crowds that we need to marshall due to health & safety."
Events on Sunday will get underway at 6.30PM when the Mayor of Beverley, Ann Willis and the President of the Beverley Westwood Lions, Barbara James light the bonfire. The display, which will be the biggest one in recent years, will proceed at 7.30PM.
On site there will be rides and a selection of food stalls for anyone wishing to enjoy a refreshment. New for this year are designated areas for sparklers.
Judy said;

"While we would prefer people not to bring sparklers to the event, they are not banned. This year we would like to encourage people to use the designated areas for sparklers."
"This has been put in place as discarded sparklers can cause the cows that roam the Westwood issues."
This year will also see three schools, Keldmarsh Primary School, St John's School and Cherry Burton Primary School 'Guys' burnt on the bonfire, Judy added;
"We asked all the local schools to take part in competition to make a Guy for the bonfire. We had three superb entries."
"We were all delighted with efforts made by the schools and we are hoping next year that more will take part."