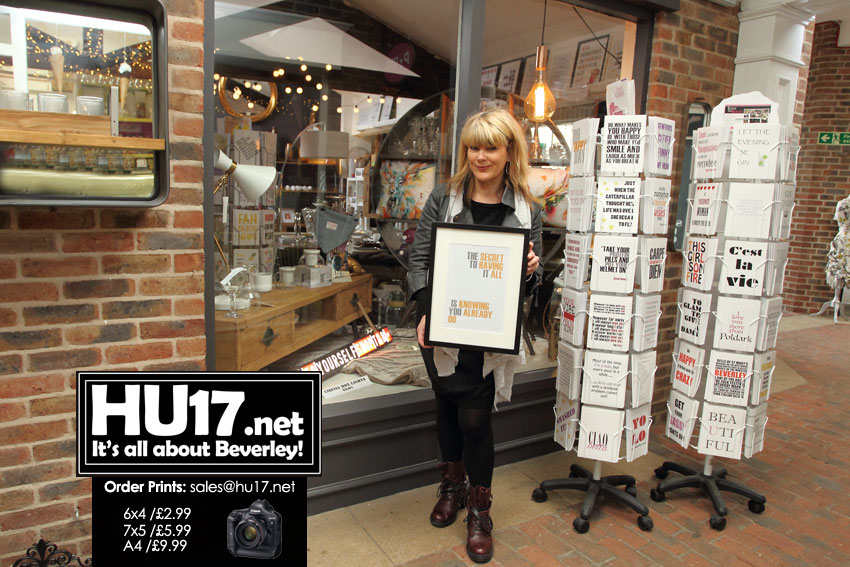 A Beverley Town Centre trader says she thinks North Bar Within is becoming the independent boutique area of Beverley.
Trading from St Mary's Arcade, Tyler & Black business owner Jane Tyler feels that what is happening in their part of Bevelrey is exactly what shoppers and visitors really want.
Her comments come as the banners for the Bevelrey Georgian Quarter were removed to make way for Christmas lights, a move she feels could be the start of something new and better.
Speaking to HU17.net she said;
"I think the area is becoming "the independent boutique area" and the rest of Beverley is all High Street names now, and that is something I would like to promote really."
"We have had so many out of town people this week loving our shop. They haven't come here for the day to shop at Debenhams, they want something unique that is not on every high-street throughout the UK."
"With the new Beverley Arms Hotel we could really be the best area of the town. Some people were over from York yesterday saying York is even losing its identity with so much high street invasion."
"I'm not against the big names, love them myself, but if we're not careful Beverley will be no different to anywhere else."
Beverley's Georgian Quarter was launched in an attempt to 'increase footfall' and boost 'visitor' numbers to the town and after a big launch failed to live up to its expectation.
Jane added;
"I'd just rather work with a few likeminded people to promote the area than flog a dead horse. Do we need any banners? Can't the money be better spent?."
"Businesses doing well don't get involved with the Georgian Quarter so it's only a few people. Maybe the Georgian Quarter has run its course."
This is in stark contrast to St Mary's Arcade which is almost full of independent traders and is still Beverley's only indoor shopping centre.