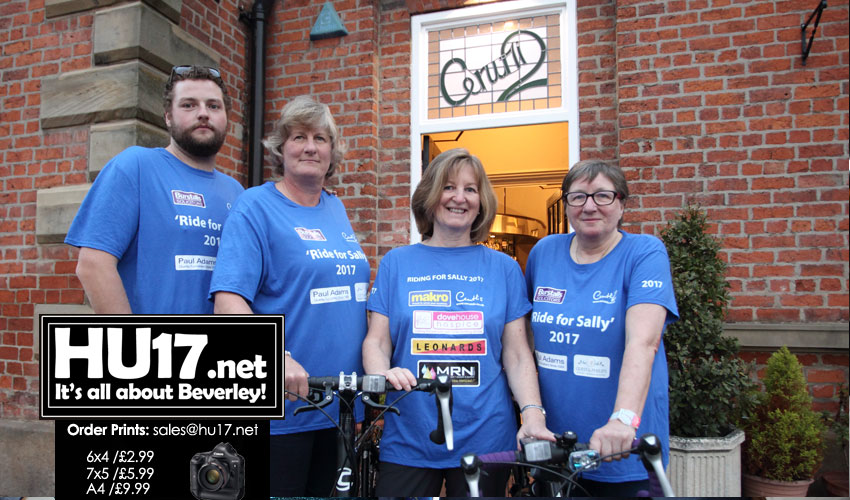 An owner of a popular seafood restaurant brand in Hull and Beverley has called for fundraising help as a team looks to pass a £25,000 target for Dove House Hospice in memory of Sally Marshall and Julie Lang.
Tina Cerutti, who runs Cerutti '2' in Beverley, has been part of Team Sally, which has raised more than £24,000 so far for the local hospice which provides levels of care and support beyond the call of duty.
Both Sally and Julie recently passed away in Dove House Hospice. The team is led by Nick and Richard Marshall, Sally's husband and son respectively, along with Martin Hall, Julie Llewellyn, Scott Lang, Matt Lord, Piet Hendrix, Sue Oughtred, Susan Hodgson, Anna Byass, Liddy Bethell and David, Debbie & Anna Rosenberg.
In order to raise the amount so far, Team Sally cycled the Way of the Roses from Morecambe, Lancashire, to Skipsea to not only raise funds, but also to raise awareness about the work that Dove House Hospice does on a daily basis as it celebrates its 25th anniversary making a difference for the Hull and East Yorkshire community.
Tina said:
"The amount we have raised so far is absolutely fantastic and we are now very close to the £25,000 target we set to help such a wonderful hospice.
"This money will make a difference in helping the hospice continue doing the work it does, which helped our dear friend Sally and her family."
Richard Marshall, who is also part of Team Sally, said: "It is a massive effort from all those involved and all those who have donated. Dove House does amazing work to give families time together when the end is near and time together is precious.
"I am proud to have been part of a fundraising effort that will allow Dove House to provide care to other families facing the turmoil of cancer. A big thank you to Dove House and to all those who helped organise the ride and all those who donated."
To donate, please visit https://mychallenge.everydayhero.com/uk/sallys-ride