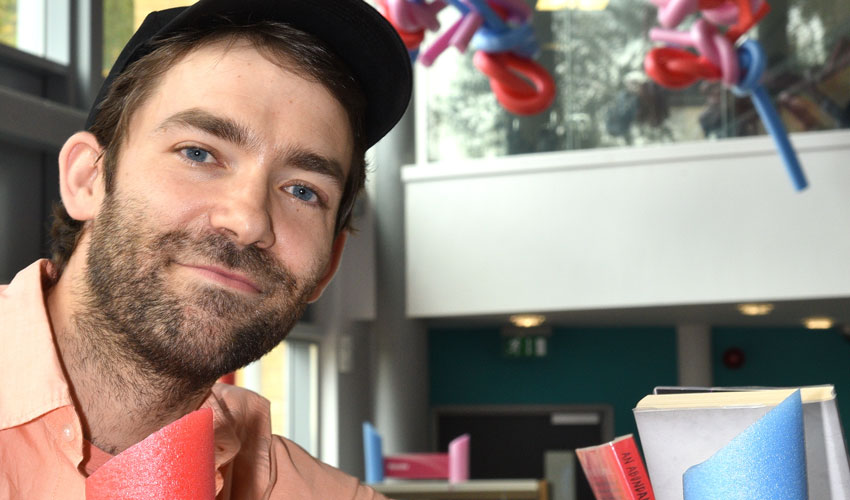 Customers of East Riding Leisure Haltemprice, in Anlaby, can enjoy a specially commissioned artwork by locally born artist Patrick Coyle, which has taken over the library, the swimming pool, the café and a squash court in the leisure centre until November.
Inspired by the joined-up nature of the building, Coyle interweaves three of its distinct environments through writing, performance and sculptural installation.
He has written a collection of overlapping texts that link Anlaby Library to the swimming pool and to the Cafe Vibe in the centre. These narratives are interspersed by Patrick throughout the leisure centre in the form of a self-guided tour, which acts as something between a nature trail and a treasure hunt.
One of the highlights is the learner swimming pool changing colour at set times to bring the whole installation to life.
Patrick Coyle, 34, born in Beverley, is back on his home turf, having recently delivered performances and exhibitions in London, New York, Los Angeles, Buenos Aires, and Aarhus. He now lives in the United States.
He explained;
"I used to come to this Centre for swimming lessons and parties as a child, and am delighted to see how it has changed so much – for the better – over the years. With this new installation – 'High Enterprise ' – I developed a narrative that interweaves the different areas, including a link to the library during the Lit Up literature festival.
"I hope that people will be drawn in to Haltemprice by the giant lettering in the windows at the front. My engagement with the space was very playful, and the show grew organically from my decision to switch around materials that I associated with one particular area of the Centre. For example, the swimming pool noodles feature prominently in the library!
"It's all about creating a balance between a visual stimulus and a suggested narrative.
"The staff here at the Centre have been amazing as we created this installation. They have contributed many ideas to mine – I am delighted to say that their attitude has been to say "Yes and" rather than 'Yes but…"
The free exhibition will be open Monday – Wednesday between 10am and 4pm; Thursdays between 1pm and 6pm; and Friday – Sunday between 10am and 4pm.
The learner pool will change colour on:
Mondays 5 – 7pm
Tuesdays 4 – 5pm
Wednesdays 5 – 7pm
Thursdays 5 – 7pm
Fridays 12 – 3pm.
For full details of East Riding Leisure Haltemprice, visit http://www.eastridingleisure.co.uk/haltemprice/