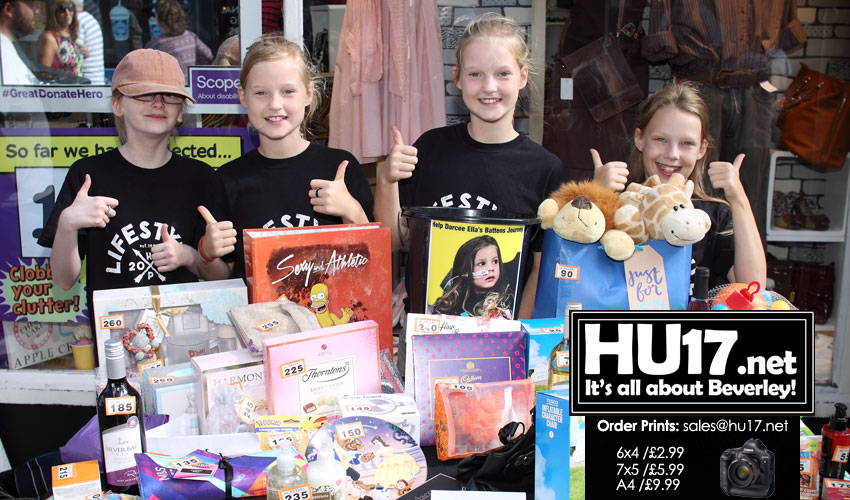 Lifestyle team, Wild4Life say they are very grateful to everyone who visited their stall in Beverley after the team raised £190 by holding a tombola.
Clara Adams, Hannah Keenan, Lucy Keenan, Jessica Greenwood held the event as they looked to raise money for a family friend whose child is seriously ill.
Commenting on their fund raiser in Beverley they said;
"It went really well, the family came down and we talked to a lot of people raising awareness of Baton's disease."
"We are all so grateful not only to those for buying a ticket, but also to everyone who simply donated and more so the fact that they stopped and took an interest in Baton's disease.
"Many of these people said they would pass the word of Darcee's journey and her JustGiving page to others. With the awareness hopefully more money will be ring fenced to finding a cure."
The team, which also includes Abigail Garth, decided to raise money for Darcee-Ella after they learned that during the summer her condition had worsened.
Thanks to their efforts and the generously of the shoppers in Beverley, Wild4Life managed to raise a lot of money that will be used to help fund equipment for Darcee-Ella.
The girls who all have recently finished at St John of Beverley RC Primary School have also been very busy in the community helping the local wild life.
They have made bug houses, bird feeders as well as are creating a garden at the Beverley Community Hospital.
To make a donation or find out more about Darcee-Ella's story please visit –