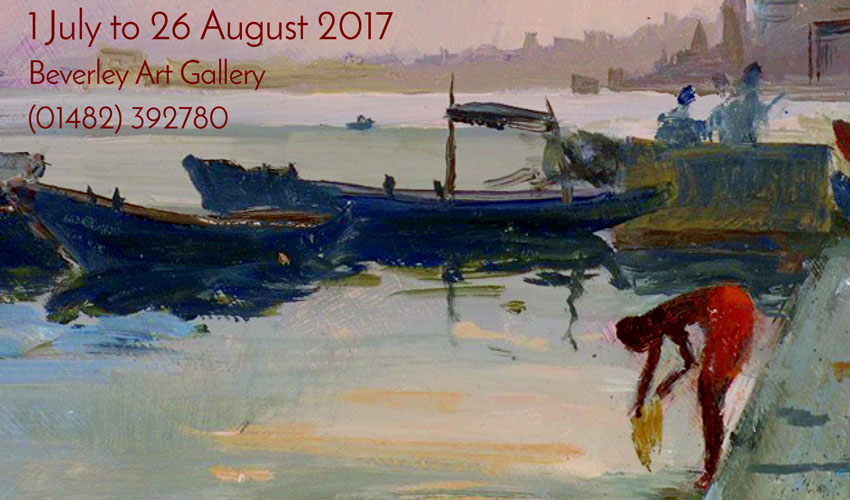 A new exhibition opens at Beverley Art Gallery in the Treasure House this Saturday (1 July): 'Red Earth and Blue Water; Studies of Indian Life' by Susan Beaulah.
Beaulah has been painting and exhibiting regularly since the 1980s in watercolour and oil. In recent years, her works have been mainly produced in India– from Rajasthan in the north to Kerala in the south.
Her first painting trip to India was in 1990 and the experience surpassed all her expectations. It took many years before she found a suitable place to live and work. She eventually settled in a small tourist resort called Kovalam in Kerala, South India. She spent at least ten winters there, painting life on the beaches and rural life.
To capture the essence and mood of her subjects, she has to work outdoors and paint directly from observation. Acclimatising herself to the hardships of the beach and negotiating a working relationship with the local fishermen was a delicate and often nerve – wracking experience, and she had to employ a guide. Rajasthan, where the rural scenes were painted, presented equally challenging situations.
Her paintings before 2013 were mainly in watercolour – since then, Susan has turned to oils. She feels equally happy in both media.
The paintings in the exhibition are a documentation of everyday lives. The rich colour of the red earth of Rajasthan, the exotic shaped boats of the fishermen, the ramshackle wayside shops and the vibrant colours of women's saris as they worship by the Ganges draw the visitor into a world of activity long since past in more developed countries.
Susan holds the view that we have lost as much as we have gained in our progress. Sitting as she does painting for hours in one place, she experiences a unique connection with that place and the people living there. She thinks that it is not possible to express in words the intense and testing experience, but that she communicates it in her paintings.
The free exhibition opens on Saturday and runs until Saturday 26 August. The Treasure House is open Monday, Wednesday and Friday from 9.30am – 5pm; Tuesdays and Thursdays 9.30am – 8pm; and Saturdays from 9am – 4pm.