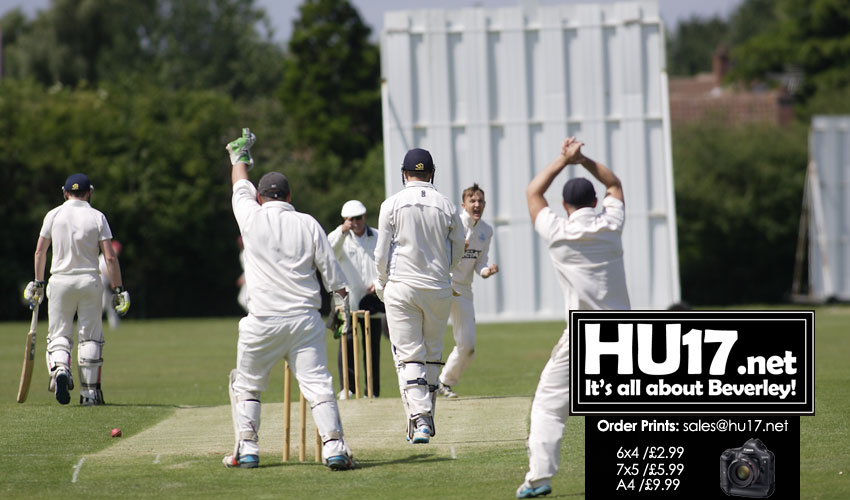 Goole Town now sit bottom of the table after they suffered a third straight defeat at the hands of Beverley Town Cricket Club.
This latest defeat for Goole saw them bowled out for just 94. Beverley's Jamie Roe returning figures of 6-21 as Beverley secured a simple six wicket win.
Goole's Jack Knowles can take some consolation after striking back with three wickets but the inevitable defeat followed with Olly Grantham (32) and Tom Hudson (30no) both contributing to a total of 97-4.
Else where, Sessay remain out in front in the Hunters York & District Senior League Premier Division but the chasing pack are still hot on their heels, meanwhile a change at the bottom re-kindles Malton & Old Malton's hopes of avoiding an immediate return to Division One.
David Wainwright's second century of the season helped Castleford get the better of Studley Royal to take over their place in the top two. There were also runs for Connor (43) and Liam (31) Hyde and James Sykes (32) as the runs flows at Savile Park the hosts reaching 301-5. They were ultimately denied maximum points as the visitors finished on 210-9 Rob Mackle top scoring with 64 whilst Connor Hyde capped a fine all round performance with 3-45. The result leaves Wainwright's side inside the promotion places but with only a slender lead over their nearest rivals.
With the two side which began the day immediately below them were fighting out a draw at Savile Park leaders Sessay missed the chance to increase their advantage as they were held at home by Pickering.
Mark Wilkie (67), Simon Mason (59) and Nick Harrison (54) all scored half-centuries in the hosts' total of 286-6 with Andrew Sharman taking 3-48 and he also starred with the bat making an unbeaten 69 as the visitors closed on 242-8 in reply Matthew Butler (57) becoming the fifth player to pass 50 in a match dominated by the bat.
Dunnington are up to third after they defeated Driffield Town at Common Lane in a match most notable for the number of key performances by ex-Town players against their former side. Jonathan Anderson (4-50) and Dave Brent (4-40) both enjoyed success at Kings Mill Road before making the switch and their combined efforts helped bowl out the visitors for 185. George Drury was another who made the move and his 57 not out contributed to a nine wicket win with Adam Sutcliffe also finishing unbeaten with 84.
The days closest finish cam at Shipton Road where York came within three runs of beating Whitkirk, instead both sides had to settle for a draw. Matthew Webb scored a second century in his last four innings adding to the unbeaten 120 made against Sessay. His score of 122 came as the visitors reached 237-4. The home side replied through Finlay Bean (58) who scored his second successive half-century and Joe Ashdown (40) with Ben Danby taking 3-36.
Malton & Old Malton remain in the bottom two but are off the bottom of the table for the first time this season. A solid batting performance included runs from Daniel Foxton (48), Shaun Harland (44), Stephen (42) and Michael (41) Linsley, and despite 4-65 from Tom Atkinson reached 247-9. Bolton Percy never looked likely to challenge despite Tom Atkinson and Ed Noble both making 47 as Thomas Bumby (6-38) and Sam Batty (3-15) secured the visitors only their second win of the season.