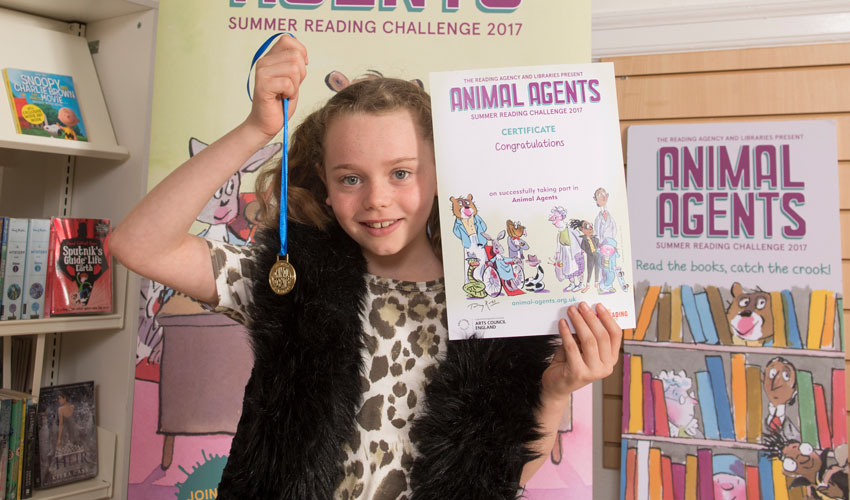 The East Riding Libraries team have their magnifying glasses at the ready for 'Animal Agents', the Summer Reading Challenge 2017!
Booking is now open and primary school-aged children are encouraged to sign up at their local library to secure their place.
The Challenge, which is produced by the Reading Agency and delivered by libraries, takes place every year during the summer holidays. This year's theme is 'Animal Agents'. To complete the challenge, which is designed for all reading abilities, children will read six books of their choice over the summer break, and attend weekly, drop-in activity sessions to collect the clues and solve the mystery, all for FREE.
Councillor Richard Burton, portfolio holder for leisure tourism and culture, said:
"Traditionally, children's reading levels can dip during the summer period. The Challenge is a fun way of encouraging children to read for pleasure, and with the drop in sessions and activities at the library each week, it provides a constructive summer project.
"There's no need to worry if you have a holiday planned and can't make one of the sessions. Our librarians have created holiday packs, with activities and challenges so you don't miss out on the fun!
"Don't worry if you are not a confident reader – this is the perfect opportunity to encourage your child to attend the library and find their own love of reading in a fun and relaxed setting."
All children are encouraged to sign up at their local East Riding library. Places are allocated on a first come, first served basis, and children who sign up before 22 July will also be entered into a prize draw to win some fantastic family fun prizes, including family passes for East Riding Leisure Centres, Sewerby Hall and Gardens, and tickets to the Brid Spa summer show, Myths and Legends.
To find your nearest library go to www.eastriding.gov.uk/find-a-library or download the East Riding Libraries App from the App Store or Google Play.