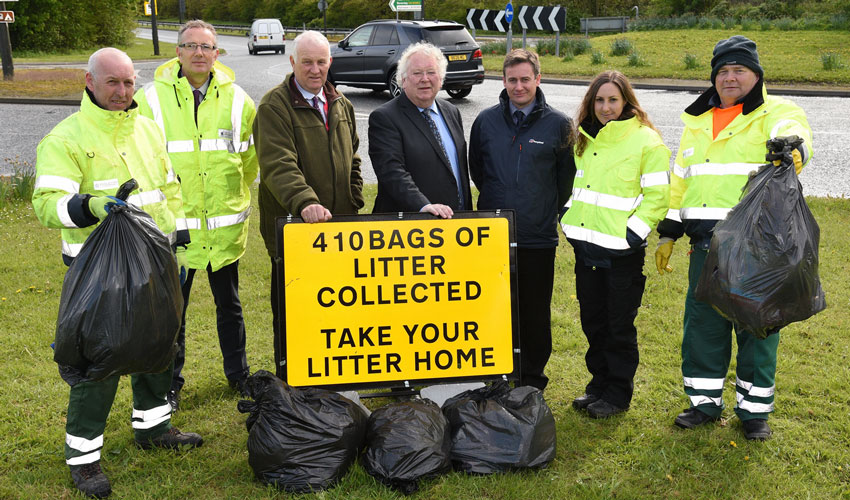 New warning signs are to be placed at litter hotspots across the East Riding as part of a campaign to combat the growing problem of roadside rubbish.
East Riding of Yorkshire Council will be placing yellow signs on the verges of main roads with a clear message to drivers to 'Take Your Litter Home'.
Fast food packaging, cans and bottles thrown from car windows costs the council and council tax payers thousands of pounds each year to clear up.
Councillor Symon Fraser, the council's portfolio holder for asset management, housing and environment, said:
"People have got to take more responsibility for their rubbish. Our new signs have a simple message, 'take your litter home'."
"The council tax payer in the East Riding should not be saddled with the cost of picking up litter which is just being thoughtlessly thrown out of vehicles every day."
The council carries out regular verge litter picking on main routes across the East Riding. But the problem is increasing so much that the council funds an extra team of litter pickers just to clean the verges of 150 miles of highway between October and April.
The new yellow signs will also inform drivers how much rubbish the council's litter pickers have collected along that particular route.
Some of the worst areas for roadside litter so far this year have included:
• Leven bypass: 410 bin bags worth of rubbish has been gathered along the two-mile stretch this year.
• Hedon bypass: 120 bin bags were filled with litter in one day alone.
• The A63 between the Hull boundary and North Cave: A massive 80 tonnes of rubbish was collected from the roadside during a three-week clean up earlier this year.
Waste falling off lorries, such as plastic wrapping, is also a problem.
As part of the campaign the council has written to businesses based near the worst areas for litter to remind them of their duty of care and ask for their co-operation.
Streetscene enforcement officers will also be investigating rubbish dumped on road sides and any evidence found may be used to bring a prosecution.
Anyone caught littering could receive a £75 fixed penalty notice. If that is not paid the case will go to court where the offender risks receiving and a fine of up to £2,500 plus costs plus a criminal record.
Over the past year the council has installed litter bins in laybys in a bid to encourage drivers to dispose of their litter properly.
More than 200 wheelie bins have been fitted in laybys on main roads across the East Riding.