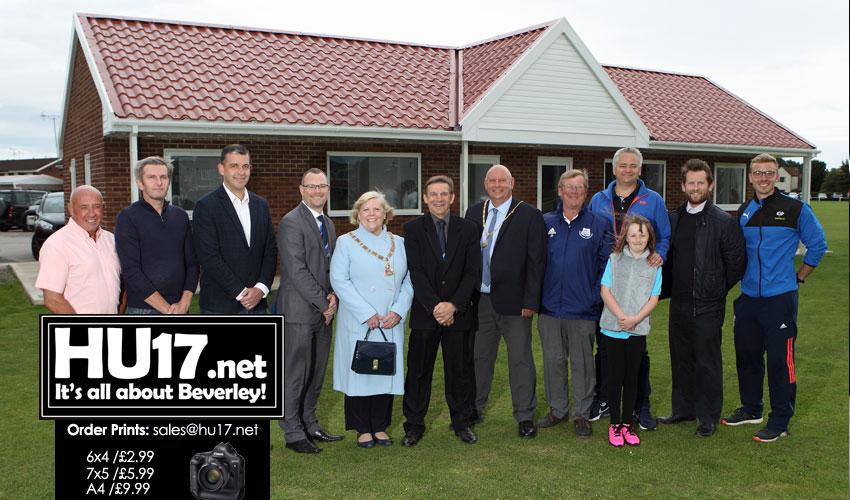 Beverley Town Cricket Club and Beverley Town Football Club were proud to unveil their new changing facilities following a construction project over the winter months.
An upgrade to their facilities was made possible following successful grant applications to Sport England's Inspired Facilities Grant and East Riding of Yorkshire Councils Commuted Sums.
Olly Grantham, from Beverley Town Cricket Club explained more, he said;
"Thanks to the funding the existing wooden shed facility has been replaced with a new brick building offering changing and showering facilities to the players and match officials."
"By under taking this project we also made improvements to the existing main cricket and football changing rooms."
"We were delighted to welcome The Chairman of the East Riding of Yorkshire Council, Caroline Fox, along with a number of guests from the cricket and football leagues and associations."
Other guests included the clubs cricket clubs main sponsor Neil McKenzie of Meza9 and Jim Maske of Specialist Building Services who successfully implemented the project on time and within budget.
Opened on a Monday evening, the event gave the club the opportunity to showcase the how popular the Norwood Recreation Ground is.
Cllr Fox was given a tour where she got to see the U15s, U13s and U 11s while scores of U9s were beginning their cricketing journey with softball.
Councillor Caroline Fox, chairman of East Riding of Yorkshire Council, said: "It was a privilege to be invited to the opening of Beverley Town Cricket & Recreation Club's new pavilion at Norwood Park.
"I was really impressed with the new facilities and hope they can help the club to continue the excellent work it does in the local community. "
"From attending this event, it is clear to see the important role the club plays in encouraging young people to get active and I particularly enjoyed seeing so many taking part in the training sessions and the junior cricket match."
Mr. Grantham added;
"These new facilities will benefit all the young players in the future and will be able to play on an improved surface following further successful grant applications to Sport England and East Riding of Yorkshire Council Commuted Sums."
"Works are scheduled to begin in August with the football pitch and parts of the cricket pitches being leveled and drained to significantly improve the facilities for all its users for the future."
"The quarter of a million pound the club has spent will go a long way to ensuring the club offers the adults and children of Beverley the opportunity to play sport on good facilities for years to come."
Off The Cuff, the new an affordable way to sell your watch from Swap Watch,From Fashion watches,Retro watches,Collectable,luxury and vintage watches,let us help you sell it. Click On Image to start selling.