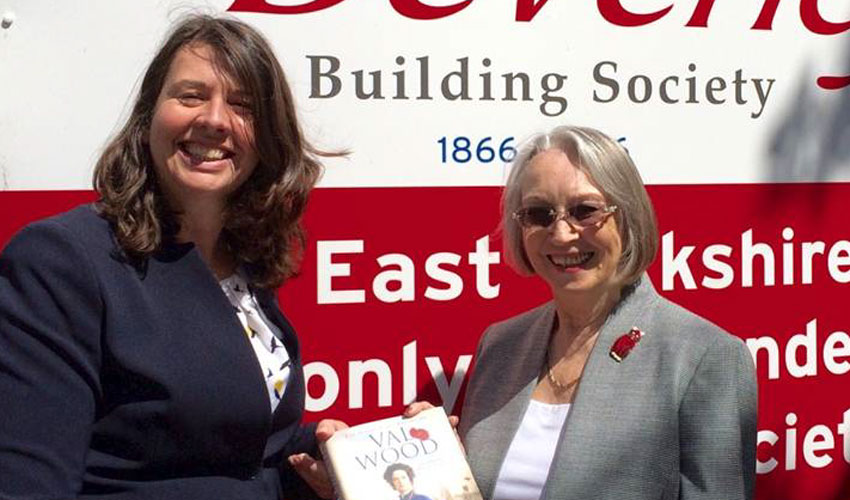 Acclaimed author, Val Wood has launched her annual creative writing competition for 2017 and entries are now being accepted.
This is her fourth annual competition in association with Hull Central Library and to celebrate Hull's City of Culture year, the prize is bigger and better than ever thanks to Beverley Building Society who are sponsoring the £200 winner's prize.
Val, who lives in Beverley has written over twenty best-selling romantic and historical novels based in the Hull and surrounding areas. She says:
"I'm thrilled to be running a writing competition for the fourth year in a row and this year is especially exciting due to the ongoing City of Culture celebrations."
"We are very grateful to Beverley Building Society for becoming the new sponsor for this year. My husband and I actually took out our first mortgage with them in the 1960s and it's great to see they are still doing so much to support first time buyers and young families in our community."
"For the competition, entrants are invited to write a short story of their own creation with a maximum 2017 word count, using 'Freedom in Hull' as the theme, to tie in with the next cultural season. The competition is open to an international audience of unpublished writers, aged 16 and over. So anybody who has a story to tell about Hull is able to submit their work."
"I have always celebrated Hull's remarkable heritage in my novels and this competition is a great opportunity for other writers to capture the essence of the city in their own words."
Janet Bedford, Deputy Chief Executive from Beverley Building Society says:
"We are thrilled to be working with Val on her annual writing competition. As last year, writers from far and wide are expected to enter and we look forward to hearing the finalists read their prize-winning entries at the Library. It's a great opportunity to be a part of the City of Culture celebrations by recognising talented writers."
The winner of the competition will receive a £200 cash prize and their entry will be published on Val Wood's website. The runner up will receive £50 and there will also be two commendations of £25 each. Cash prizes are kindly donated by both Beverley Building Society and The James Reckitt Library Trust.
Entries can be typed or handwritten and submitted to the Hull Central Library before Saturday 19 August. Full conditions of entry can be found at valeriewood.co.uk.