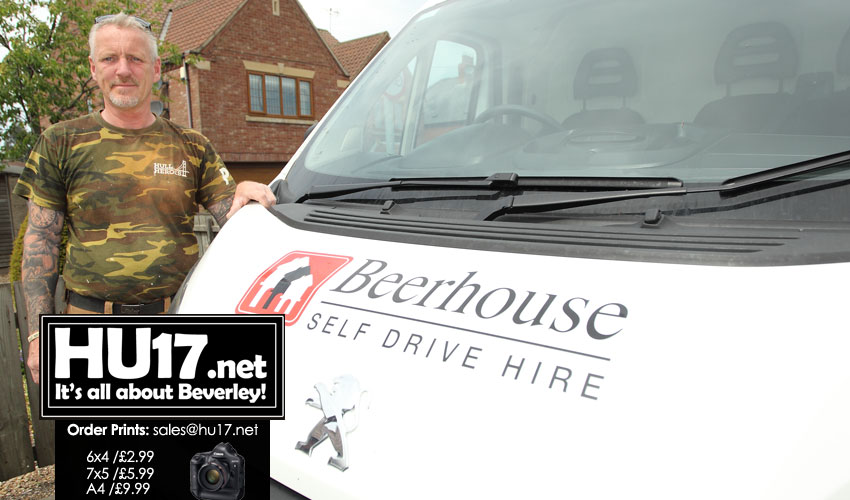 Paul Matson founder of the charity Hull 4 Heroes says that the support from Beerhouse Self Drive Hire has been key to him helping local veterans.
Mr. Matson who is currently working on a project in Beverley said that the loan of a van from the company has been vital in Hull 4 Heroes being able to deliver a renovation project in the town.
Hull 4 Heroes was formed after the Paul got involved the BBC show DIY SOS which renovated a number of houses for veterans.
After he volunteered to help on DIY SOS Mr. Matson's vision has been to continue the work by supporting veteran's in the Hull and East Riding area.
Speaking to HU17.net Mr. Matson said;
"Beerhouse have been incredible. They have lent us a van, which has been a real help in getting the materials we need to and from the site."
"For us to carry out this work, we rely on people to volunteer their time and the support of local businesses who donate materials and in Beerhouse's case transport."
"We are really grateful to Beerhouse and of all of those that help in supporting former members of the armed forces who have served their country."
"Hull 4 Heroes has also formed relationships with other local charities and by working with them we are able to provide the basic needs like furniture."
Mr. Matson who himself is veteran explained some of the issues faced men and women who leave the armed forces, he said;
"When you join you are conditioned. They teach you to just crack on. They train you to be able to leave you best mate who is dying on the ground and carry on with your mission."
"When you leave, they teach you a skill, but they do not undo the conditioning and this for many of them, myself included, proves difficult to deal with."
"Coming back into civilian life can be hard to adjust to. The simplest of things can soon escalate out of control – these are the people the Hull 4 Heroes, with the support of companies like Beerhouse aims to help."