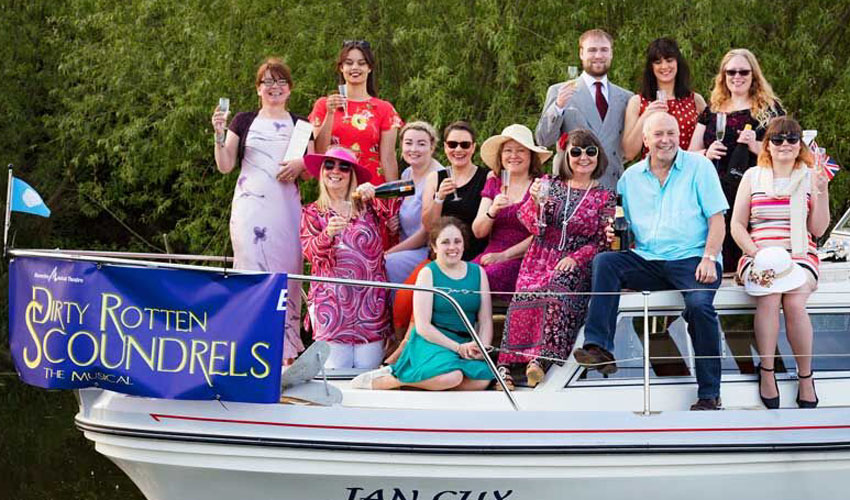 Beverley Musical Theatre has a rich and fascinating history dating back to its inception in 1927 when it was Beverley Amateur Operatic Society.
I recently spent a sunny afternoon outside Lempicka Cafe on Wednesday Market with Alison White, now in her fifth year as chair, discussing the history of the Society, their latest production and her lifelong love of musicals.
The genre is stamped on her DNA, and her enthusiasm and dedication is tangible.
"I adore Judy Garland. 'Easter Parade.' 'Meet Me In Saint Louis.' Judy had a gorgeous voice. I love nothing more than to spend a Sunday afternoon curled up under a blanket with a box of chocolates watching a musical. Any musical. I could watch them all, over and over again."
Alison's late father had an enormous role to play in shaping her future. "He belonged to a Gilbert and Sullivan society in Bradford. I have a photograph of me standing in a sentry box during a production of 'Yeomen of the Guard.' I was about three. He did a show every year and introduced me to the wonderful experience of being backstage in a theatre; all of that buzz and excitement."
Years later she was encouraged to participate in an upcoming amateur production of "The Pirates of Penzance" in Beverley.
"I always wanted to perform, and went along to the audition. I got the role of Edith, a major part for a newcomer. I never looked back. I use that experience now to encourage fresh talent, fresh faces, fresh ideas; to invite people who may be nervous or reticent, to join us."
Sadly, her father passed away before he got to see Alison in "Pirates." "I would have dearly loved him to see me up there on the stage. I can picture him now saying, 'That's my girl.'"
The Beverley Amateur Operatic Society first performance was "Iolanthe" in February 1927 and throughout the 1920s and '30s it largely performed Gilbert and Sullivan shows like "HMS Pinafore" and "Pirates." It morphed into various organisational formats over the years, finally re-launching as Beverley Musical Theatre in September 2006, keen to "appeal to 21st century audiences and attract new members to the world of musical theatre."
Over the past decade talented local volunteers have tried their (jazz) hands, high kicking legs and tap shoes in an impressive portfolio of classic musicals including "Singing in the Rain," "Fiddler on the Roof," "The Sound of Music," "Annie," "South Pacific," "Hello Dolly," "My Fair Lady," and "Guys and Dolls." Their annual pantos are equally adventurous, from "Aladdin" to "Dick Whittington."
Last year, in an attempt to break the mould, they changed direction, jettisoned the major musicals and experimented with Dolly Parton's entertaining and hugely popular "9 to 5" musical.
This year's "Dirty Rotten Scoundrels" is based on the 1988 US comedy movie starring a "suave and sophisticated" Michael Caine and an "arrogant and obnoxious" Steve Martin, who play a couple of swindlers in the South of France trying to get as much money they can from rich, vulnerable women.
"The 2004 musical follows their hilarious rivalry and how it gets in the way of their success. We have a great musical score played by an eight-piece band and a very talented set of principals, supported by a cast of twenty-five. It's a light-hearted, funny show where you can sit back with a glass of wine and be whisked away to the decadence of the French Riviera and experience the story unfold."
The overheads and logistics involved in "putting on a show" are huge and require intense dedication and commitment: casting, scenery, orchestra, rights and licensing, choreography, musical direction, lighting and sound. I actively encourage you all to support the cast and crew in this wonderful initiative.
Beverley Musical Theatre's "Dirty Rotten Scoundrels" is at the Memorial Hall from Wednesday 14th to Saturday 17th of June 2017 at 7.30 pm (with a matinee at 2.30 pm on the 17th). Tickets are on sale now for £10 from Beverley Music & Dance, Norwood, Beverley HU17 9EZ 01482 881584.
Alison is proud of the group's inclusivity, always encouraging new members to participate. Even her husband Jon has been roped in, not only as Hon. Secretary but also, amongst other odd jobs, as scenery maker. Alison laughed: "At least it keeps him out of mischief."
We ended our conversation discussing plans for future shows. There's some interest in the "Sheffield steel, gritty version" of "The Full Monty." "Calendar Girls" has also been considered. "You wouldn't believe the amount of women who put up their hands to say they'd be happy to take their clothes off. Amazing."
Visit http://www.beverleymusicaltheatre.co.uk/ for more information, a detailed history and links to Beverley Musical Theatre's Facebook, Twitter and Instagram profiles.
If you're interested in getting involved please email:
info@beverleymusicaltheatre.co.uk
Gary Horrocks
HU17 Arts & Culture Editor