Bug Vinyl in Beverley say that are looking forward to what will the first time they have taken part in Record Store Day this coming Saturday.
Business owner Neil Harris says people will be camping outside his store with people expected to be queuing up early doors to so they can get their hands some limited edition releases.
Neil says that it will be releases like No Plan by David Bowie that will be filling record collectors with great excitement ahead of the event.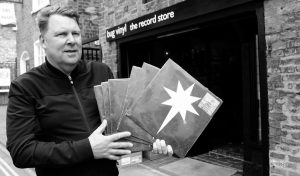 Record Store Day has been well recognised as the catalyst behind the vinyl revival and this year will mark the 10th anniversary of the having the event in the UK.
Figures show that there is a rising popularity in purchasing music on vinyl in the UK as sales out stripped that of digital downloads for the first time with 3.2m vinyl albums sold.
Organisers of the event said;
" In 2007 when the event began, vinyl album sales amounted to just £1.1m, accounting for just 0.2% of the physical albums market."
"Now, 10 years on, vinyl sales are worth £65.6m, representing 14% of total spend on physical format albums in the UK."
BPI Council say that is not just the old who are going back to vinyl but also the young who crave to physically own something, they say:
"It's twofold in that older people are going back to vinyl but I also think the younger generation are discovering it in a way they weren't before.
"People think millennials just stream and are just digital but actually I think we are going to see increasingly over this coming year that young people still want something tangible and real and that's where vinyl is taking on the role that the CD used to have."
Record Store Day will take place at Bug Vinyl on Ladygate this Saturday, to find out more about the special releases for the day just pop in the Bug Vinyl.