Huge crowds attend the region's biggest Lambing Sunday event this Mother's Day
Thousands of people from across the country descended upon Bishop Burton College this Mothers' Day to witness the birth of the new lambs, pet them and help with feeding at this year's Lambing Sunday.
The annual springtime spectacle has grown to become one of the biggest lambing events in the country, growing in popularity year on year.
In addition to the lambs, the College hosted a number of other activities across its sprawling campus. From horse riding displays and pony petting, to farm machinery displays, pig unit tours and animal handling in the Animal Management Unit, there was something to entertain all the family.
Children were able to get up close with the College's famous meerkats, find out about the family of lemurs and visit the wallaby enclosure for a petting experience and animal talks. There was also the chance to 'hug a bug' and 'snuggle a snake' for the more adventurous visitors.
Toni Longley from Hessle, brought along her children Declan, 13, Sienna, 11 and Tamzin, 9.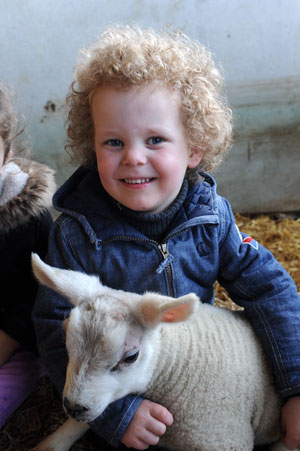 Tamzin said: "This is my third time coming to Lambing Sunday and I love it even more each year. I love holding the newborn lambs and I've even been brave enough to snuggle a snake this year too!"
Lucy and James Riley attended the event for the first time this year with their son Thomas, aged 7. The family, who live on Kingswood, said they had a wonderful time at the event;
"We'd heard of the event before but had never managed to make it. We have been really looking forward to today and it didn't disappoint – it was a brilliant family day out and Thomas has absolutely loved it. We never thought he'd get to hold a lamb – it's definitely been a day to remember."
College Chief Executive and Principal, Jeanette Dawson OBE, said she was delighted to once again be able to open the College up to the general public.
"Lambing Sunday is always a wonderful occasion at the College, and never more so than when it's a beautifully sunny day like today," said Jeanette. "It is one of my favourite days of the year at the College and to have so many people here sharing it with us is wonderful."
The Principal added; "It is the perfect way to celebrate Mother's Day and to welcome in the longer days of spring. Here at the College we are incredibly proud of our beautiful campus, our brilliant students and staff, so it is fantastic to be able to open it up to the public."
The College is a Centre for Vocational Excellence for agriculture and equine. It also specialises in animal management and sport. The state-of-the-art Animal Management Unit is one of the finest facilities of its kind in the country and home to more than 100 species. Bishop Burton is also the home of Hull City Tigers' Academy and the City of Hull Academy, a unique collaboration between Super League clubs Hull FC and Hull KR.