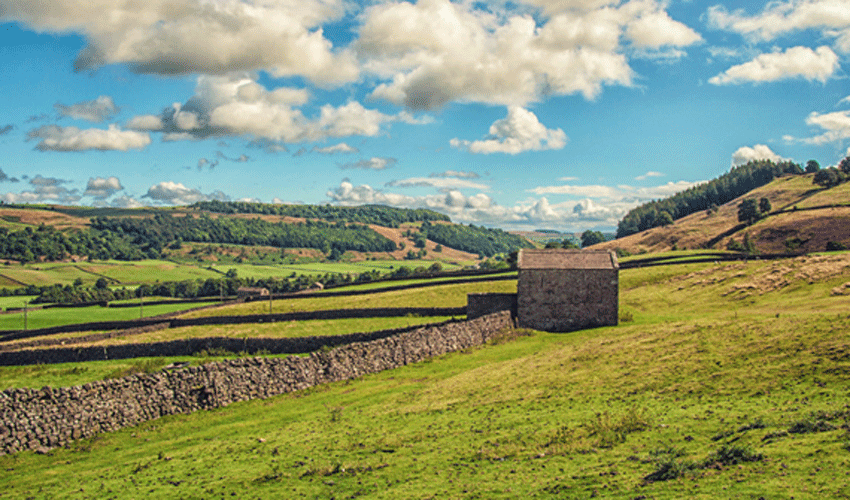 Yorkshire is known for its breath-taking views, wonderfully warming cups of tea and friendly folk, however it's probably less known as being an excellent place to live for first time buyers and young professionals.
The beauty of Yorkshire isn't just the greenery or the rich heritage but the beauty really lies in it being an accessible place for many people to start on the property ladder.
There are plenty of towns and cities within Yorkshire which are ideal for young couples, professionals or graduates to settle down for the first time. Some areas in Yorkshire have house prices that are lower than the UK average, so this can help add to the desirability of Yorkshire. The Government Help To Buy scheme is also helping make it easier for first time buyers to find their first home and it's available on both existing homes and new builds.
Leeds
Leeds is one of the gems in Yorkshire's bank of affordable cities and towns. The average house price in Leeds is around £188,575, around £29,407 cheaper than the UK average as of November last year.
Leeds is similar to London; there's lots of history, culture and things to do. The plus side to Leeds is that whilst it has most of what London has, it isn't as populated or as busy as the capital. Living costs and housing costs are far cheaper than down South too, so this only adds to the desirability of setting up home in the North.
Leeds and Bradford airport is the major airport servicing the people of Leeds. It's easily accessible, with around a 29 minute drive from the city centre and there is a popular bus dedicated to transporting people to and from the airport. If you need to commute for work, Leeds has excellent transport networks.
You can get to Manchester in just 50 minutes by train and to London in around two and a half hours by train, as well as a strong bus network running to and from the city centre.
Hull
Famous for the Humber Bridge, Hull is ideal for first time buyers. The average house price is £112,503, so Hull is 48% less than the UK average and 26% less than the average for Yorkshire and The Humber.
Hull has been given the title of the UK City of Culture for 2017 and it's definitely one of the most up and coming areas. Commuting isn't an issue either, Leeds is the closest city from Hull with a commuting time of around 56 minutes by train or 1 hour and 14 minutes by car.
The Hull train station also services popular cities such as Liverpool, Manchester and London.
There are lots of amenities in Hull, with plenty of shops, museums and sights to see. Hull is home to The Deep which has been voted the best family place to visit in the city and also The Humber Bridge, the eighth-longest bridge in the world.
The nearest airport to Hull is the Humberside Airport, which flies to around 17 destination and is a 30 minute journey by car from the city centre of Hull. The next closest airport is Doncaster Sheffield Airport, which flies to around 55 destinations around the world.
Wakefield
Wakefield is one of the jewels in West Yorkshire's crown and is known for trading in coal, coal mining and textiles. The average price of a terraced property in Wakefield is around £120,716, so it's a financially accessible place to live for first time buyers.
Both the Hepworth Gallery and the Trinity Walk shopping centre were opened in 2011, offering plenty of things to do for the residents of Wakefield. The city centre also has a cinema, which is located just a short walk from the main bustle of the plethora of shops, bars and restaurants Wakefield has to offer.
Wakefield is a short commute to Leeds, with around a 20 minute drive or a 20 minute train journey. You can easily travel to where you wish in Wakefield, thanks to the excellent transport links the city has. With a bus station and two train stations situated in the city centre, you can go as far as London from Wakefield.
Huddersfield
Huddersfield, situated in West Yorkshire, is a large market town famous for its role in the Industrial Revolution. Huddersfield is an ideal town for first time buyers, as the low house prices and attractive Victorian architecture adds to the desirability of the town. The average house price is around £112,758, making it around £39,024 cheaper than the national average for Yorkshire and The Humber.
Huddersfield is halfway between Leeds and Manchester, so you can get to Leeds or Manchester in around under one hour. There's also lots to do in Huddersfield, with parks, leisure centres and hiking trails all adding to the beauty of Huddersfield.
Both Leeds Bradford Airport and Manchester Airport are within a maximum of an hour and five minutes drive from Huddersfield. The market town has a good transport links and its train station, which is well known for its Grade I listed building and serves Liverpool, Manchester, Leeds, Sheffield and more.