Rebecca Lenkiewicz's award winning play "The Night Season", (originally staged at the National Theatre in London), opened at Beverley's East Riding Theatre on March 2nd and runs until Saturday 25th of March.
It is a personal favourite of the theatre's new artistic director Adrian Rawlins, making his directorial debut at the ERT in this astonishing and beautifully conceived, staged and acted production.
Set in Ireland, it follows the Kennedy family, three sisters who, abandoned by their mother at an early age, have been brought up by their drunken father and eccentric grandma.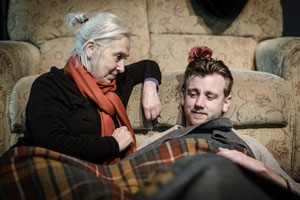 Rawlins, an actor on stage and screen for thirty years, (Harry Potter, Dickensian, War and Peace) says, "I'm sure everyone will relate in some way to the loves, losses, dreams, disappointments and triumphs of the Kennedy family. What makes the play so special, apart from the wonderful Irish humour, is that you can fall in love with every character and therefore invest emotionally in the play's destiny for each and every one of them. This makes for compelling theatre."
The cast features Clive Kneller and Gabriel Winter, with local young talent Evie Guttridge, Alice Beaumont and Josh Meredith all taking on challenging roles. Lynne Verrall comes from Paris to take on the role of grandmother Lily and completing the cast is Bettine MacKenzie who impressed audiences and critics alike in Edinburgh last year with her one woman show.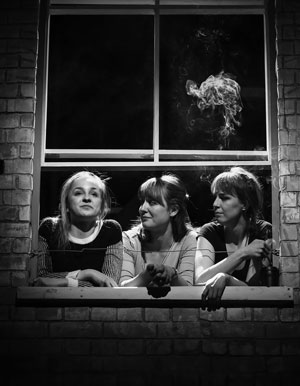 It's an impressive ensemble delivering a balanced mix of humour and sadness, pathos and dysfunctionality, capturing the highs and lows of family life. "He was having an existential crisis," goes one great line. "He wasn't having one. He is one," is the rather brilliant response. There are many classic scenes and moments.
A personal favourite is overhung librarian daughter Judith (Bettine) pulling a sickie for a few hours of passion with Gary (Josh.) "Is this what librarians do on their day off, is it?" Splendid. Kudos to the production team as well for a superbly designed and lit set that evokes the clutter of a typical family home: a comfy settee with a woollen throw; a tangerine standard lamp.
It complements the intimacy of the ERT as a venue, engaging the audience in the events unfolding on stage.
Rawlins looks forward to the creative challenges and opportunities of working at the theatre. "The ERT is very much a community effort, run by volunteers. It's a pocket of creativity run on a shoe-string and punches well above its weight in the quality of theatre we produce. I'm proud to be part of that. It has enriched my life and I hope it is the same for all that comes through its doors."
Book online at:
http://www.eastridingtheatre.co.uk/
or call the box office:
01482 874050
Gary Horrocks
HU17 Arts and Culture Editor
Off The Cuff, the new an affordable way to sell your watch from Swap Watch,From Fashion watches,Retro watches,Collectable,luxury and vintage watches,let us help you sell it. Click On Image to start selling.