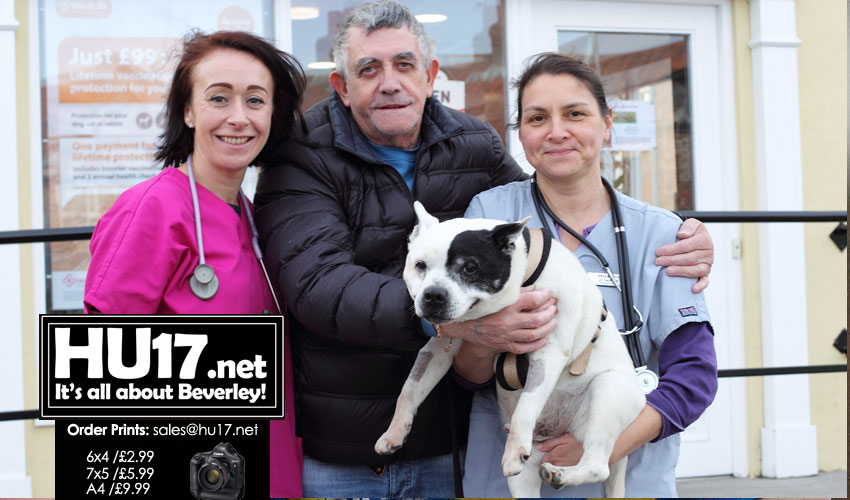 Buddy, a 12 year old Staffie cross, is a patient at Vets4Pets Beverley and has been seen regularly at the practice after suffering from a mild stroke just before Christmas.
While a little weak on his hind legs, Buddy enjoys going out for walks with his owner, Michael Pennick.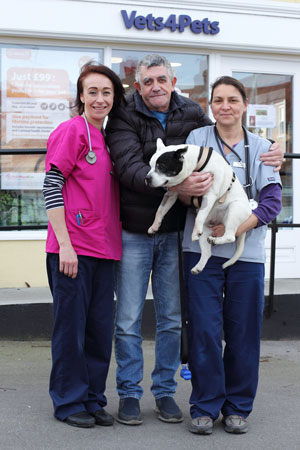 It was Valentine's Day and after calling at the surgery for Buddy's arthritis medication, Michael and his loyal friend went out for their usual morning walk along the canal bank at Tickton.
Buddy was happily trotting along when he got too close to the edge of a ditch, lost his footing and fell in.
Mr Pennick said;
"When it happened I was devastated, I felt totally helpless as I could nothing. I weighed up the options and called the fire brigade who arrived quickly to help. They went straight in and got him out telling me had I gone down there I would have died."
There had been heavy rain for the previous couple of days, which had made the dykes slippery and the ditch was full of water. Buddy was unable to climb out and proceeded to paddle frantically, in an attempt to find a way out.
Once rescued Buddy was rushed to Vets4Pets Beverley for emergency veterinary care where Vet Sarah Blackburn (BVSc MRCVS), Registered Veterinary Nurse Jo Caukwell and Student Veterinary Nurse Ellise Brown were swift to attend him.
Vet Sarah said;
"Buddy was suffering from hypothermia and his vital organs were shutting down". His core body temperature needed to be raised and he was suffering from shock."
The necessary drugs, drips and heat pads were all employed to warm Buddy up. Nurse Jo noticed that Buddy's paws were icy cold. As it was Valentine's Day, her husband had brought her some presents to the surgery, one of which was a pair of fluffy bed socks. The team were quick to use these as paw warmers for Buddy.
As his body temperature increased, Buddy began to come round and show interest in his surroundings. Concerned that his blood sugar levels had dropped, Veterinary Surgeon & Practice Partner Mary Bridge (BA BVetMed MRCVS) was quick to offer a banana from her packed lunch and it was wolfed down by hungry Buddy.
By early evening Buddy had recovered from his ordeal, a grateful Mr Pennick added;
"Buddy has made a full recovery, he is totally back to normal. I would like to say a massive thank you to the fire brigade and Vets4Pets Beverley, they were both magnificent."