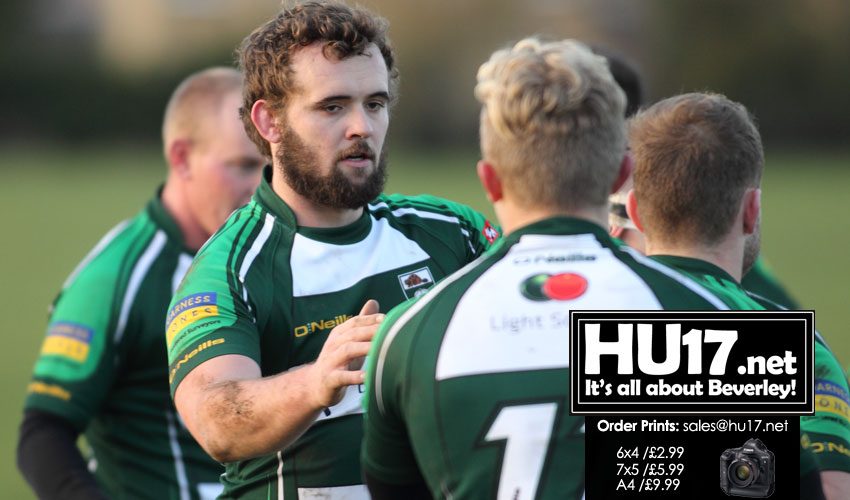 The weather was cold and miserable when the teams took the field at Beaver Park for Saturday's Yorkshire Division 1 match between Beverley and Old Brodleians and Brods immediately made their intentions clear making a sustained attack on the Beverley line.
Beverley RUFC however defended resolutely and after 5 minutes Brodleians were awarde a penalty in front of the posts. The kick hit the post and was cleared by Beverley and they mounted a sustained attack on the Brodleians line resulting in Steve Wiggill scoring wide out.
During this attack Phil Duboulay was injured and had to leave the field. Kicking duties were taken over by Rob Smith who slotted a fine conversion to make the score 7-0 to Beverley.
Play was largely confined to the mid-field for the remainder of the half with both sides playing some hard rugby but both defences neutralizing each other and half time arrived with no further score.
The second half began in much the same manner but Beverley slowly started to gain the upper hand and a very smart period of play after about 15 minutes saw Beverley go further ahead after a period of sustained pressure saw Luke Hazell score following several phases of excellent rugby, too far out for Duboulay who had returned to the field, to convert (12-0).
The Beavers continued to press hard and, from a scrum 30 metres out Will Harrison pounced on a loose ball and beat the following Brod's defence to score an excellent opportunist try which Phil Duboulay converted to make the score 19-0.
Two minutes later with Lewis Starbuck lying injured on the ground with what looked a serious injury, Brodleians capitalised and scored a try under the posts which was converted to make the score 19-7.
Beverley were undaunted by this and after an exhilarating period of play Will Harrison again broke away from a scrum and showed a clean pair of heels to the chasing defenders to score in the corner, securing the bonus point. Phil Duboulay converted and the Beavers ran out very worthy winners by 26 points to 7.
This was a very satisfying performance by Beverley against one of the leagues stronger sides. Everyone from 1 to 18 played their part but Will Harrison perhaps caught the eye most with his speed of thought and foot.
Final Score: Beverley RUFC 26 Old Brodleians 7