Beverley Racecourse today announced Flemingate as its new partner for Ladies' Day for the next three years, in an exciting move for one of Yorkshire's leading social events of the summer.
Flemingate's opening in 2015 has already made a big impact on Beverley as a retail and leisure destination with its high-quality fashion, beauty and homeware brands, supported by a range of restaurants, cafés, hotel and cinema.
Beverley Racecourse's Ladies' Day annually attracts over 11,000 people to frequent Beverley's hotels, shops, restaurants and spas before enjoying a summer afternoon's racing on the Westwood. The event has enjoyed a particularly glamorous feel over previous years with a high-end fashion show, a best dressed competition, backed by Laurent-Perrier, and a partnership with local artisan water company Blue Keld to encourage racegoers to stay well hydrated throughout the day.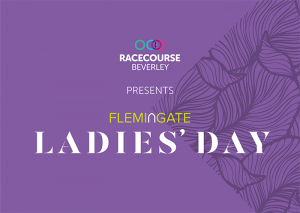 Plans for the 2017 event, taking place this year on August 16th, will include a new format for the "Most Stylish Lady" competition, allowing all Ladies' Day attendees the chance to enter themselves and strut their stuff on the Flemingate catwalk, as well as a luxurious pamper marquee for racegoers to stay looking their best. There will also be a number of events running at Flemingate in the summer months leading up to Ladies' Day, allowing visitors to get themselves perfectly attired and race ready.
Sally Iggulden, Chief Executive of Beverley Racecourse, said: "We are absolutely delighted to be bringing the Ladies' Day focus back to Beverley. This new partnership only serves to highlight the incredible shopping, fashion and visitor destination that Beverley has become with the addition of Flemingate. We've got some really exciting new plans for the day up our sleeve that we look forward to sharing in the coming months that will really bring Flemingate to the heart of the action on Ladies' Day."
Graham Tait, Centre Manager at Flemingate, added: "We're thrilled to be supporting Ladies' Day at Beverley Racecourse this year. It's a hugely popular event, with visitors coming from far and wide, and we're working closely with the racecourse team to make the day even more exciting and glamorous this year.
"This partnership continues the work Flemingate has been doing to cement its relationship with the town by supporting key events and festivals. Ladies' Day is an undoubted social highlight of the year and hugely important for trade and tourism in the town. We're looking forward to working with Sally's team to make the day at the racecourse and in the town even more special in 2017."