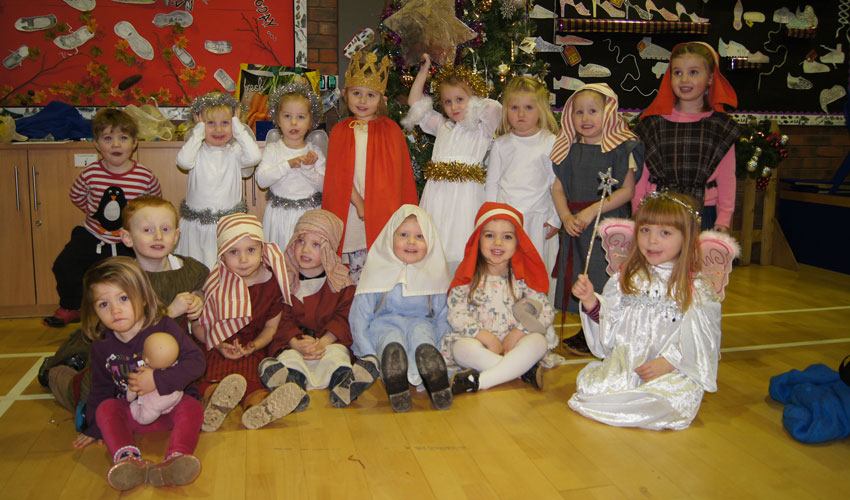 Queensgate Pre-School children entertained their family and friends by staging a traditional Nativity Play at Keldmarsh Primary School.
The event was staged at the local primary school as their own location, which is at Beverley Grammar could not cope with the demand from people wanting to watch their show.
Sally Lindley from Queensgate Pre-School said;
"The pre-school always holds a very traditional nativity each year and we're very fortunate that Keldmarsh Primary School are able to accommodate us in their school hall."
"Our pre-school building is a portakabin that doesn't have enough space to allow parents, grandparents and friends to come and see their children."
For the past few weeks the children from Queensgate Pre-School have been practicing the songs and accompanying moves.
All of the children who range in age from 2 and half to 4 years old from Queensgate Pre-School took part in the show.
Sally added;
"The children love all the actions which accompany the songs in particular pretending to ride a donkey for 'Riding to Bethlehem'. Knocking on the door to ask if the Innkeeper has any room, following the star around."
"The children were joined by several soft toys and a slightly reluctant king! It definitely put all who watched in a festive mood and seeing the little children perform made for some very proud parents and grannies."
"The pre-school would like to thank all the parents and grandparents for coming to watch the children, and Keldmarsh for allowing us to use the hall. It enables the children to have an experience inside a 'big school', which many go on to attend in future years."
"We're currently fundraising to replace to the portakabin which is really tired and it's something we would love to be able to do within the next 2 years – if any local businesses are able to help us out we'd love to hear from them."
Queensgate Pre-School which has been operating for more than 25 years is a very nurturing, friendly pre-school with a family feel.
There are currently spaces available if any families are looking for pre-school places and we take children from 2 and a half years of age.
To find out more please call 862879 to arrange a time to meet the staff and children.