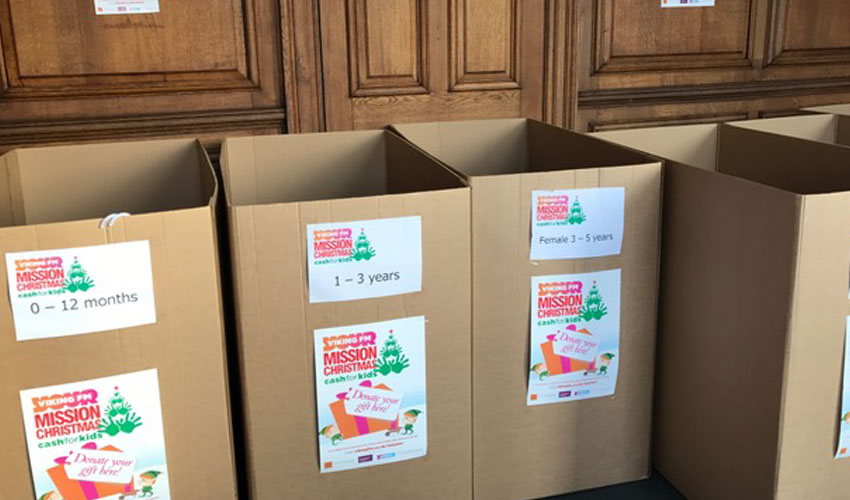 In 2015 Cash for Kids 'Mission Christmas' appeal helped more than 18,000 disadvantaged children across East Yorkshire and Northern Lincolnshire.
On Monday 14th November, Cash for Kids launched Mission Christmas 2016.
The aim of the campaign is to make sure that every child in East Yorkshire and Northern Lincolnshire wakes up to a present on Christmas morning.
Mission Christmas asks the local community to buy just one extra gift and donate it to Cash for Kids. These are then distributed to the most sick and disadvantaged children in the local area.
Last year's campaign helped an outstanding 18,000 children; "Without all the lovely gifts from yourself and the public we would not be able to give such a wonderful Christmas" – Hull Women's Aid.
1 in 3 children in East Yorkshire and Northern Lincolnshire are living in poverty, so for many families, Christmas is a simply luxury that they cannot afford.
With the support of individuals, schools and organisations, we can bring a smile to the face of thousands of children this Christmas morning.
You have until Tuesday 20th December to get involved with this year's Mission Christmas by donating, fundraising or volunteering.
You can take your gifts to a Mission Christmas drop off point; you can find a list of drop off points on the Mission Christmas website, alternatively you can take them directly to the sorting office at Viking FM.
If you are looking to fundraise, you can join in with Cash for Kids Christmas Jumper Day on Friday 9th December; wear your finest festive jumpers for a donation of £2. All you have to do is register online at Vikingfm.co.uk/mission. Funds raised allow Cash for Kids to buy more specialised gifts alongside shortfalls of gifts towards the end of the appeal.
With your help Cash for Kids can make this the most successful Mission Christmas to date.