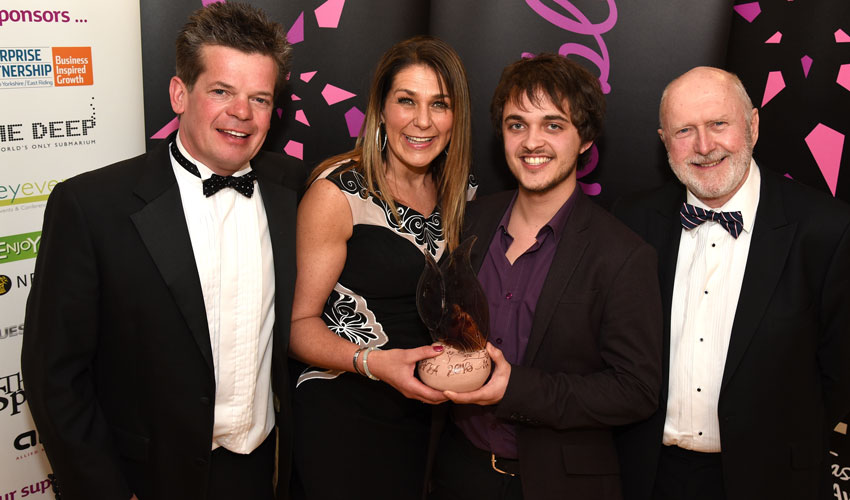 Tourism bosses in Hull and East Yorkshire are gearing themselves up for a bumper entry in the 2017 REYTAs, with entries already significantly up on the same period last year.
Organised by Visit Hull and East Yorkshire, the Remarkable East Yorkshire Tourism Awards, now in their eighth year, were launched in early November, with two new categories added this time in addition to those always hotly contested, such as best restaurant, best teashop and the trophy for the best tourist attraction or experience in the region.
And two current holders of REYTAs have spoken about how winning has given a significant boost to their businesses.
Michaela Clegg, landlady of the Black Horse in Little Weighton, said winning the 2016 REYTA for most remarkable pub had helped propel her business to new heights. "It has been incredible . . . when you have an extra 100 people walking through the door the day after you win asking if you have a free table, it is certainly a challenge," she said.
"But it has been a nice problem to have."
Meanwhile, Anthony Clappison, of the Folly Lake Cafe, winners of the Remarkable Cuppa award, said winning a REYTA was "worth its weight in gold".
Located in the picturesque setting of the Risby Fishing Ponds, near Walkington, Mr Clappison said Folly Lake Cafe was often described as East Yorkshire's best-kept secret, but winning the accolade had suddenly put them on the map.
"The publicity we received led to an amazing response and gave us access to a much wider audience," he said. "I must admit to being a bit sceptical when I entered but having done it, it's amazing. I would certainly encourage other businesses to have a go – it's free publicity and can lead to further recognition. Winning is also a great morale booster for staff."
But he cautioned: "The REYTAs effect is not to be under-estimated. It gave us a huge boost and I would say to anyone entering, be prepared – you'll get an influx of people. It almost caught us on the hop in terms of ensuring we had enough staff to cope with the rush."
The REYTAs are open to all tourism businesses in Hull and East Yorkshire, large and small, and is free to enter by visiting www.visithullandeastyorkshire.com/reyta and then following the links to fill in a simple entry form.
Shortlisting in each category will take place shortly after the closing date via independent panels and mystery shopping.
The closing date is January 27, 2017, ahead of the finals night on March 30, 2017.
New categories unveiled this time include the Remarkable Family Friendly Experience, which is open to to any food service, accommodation provider or visitor attraction that specialises in serving the family market, and the Remarkable Hull and East Yorkshire Passion Award for Arts and Culture.
Andy Gray, tourism manager for VHEY, said the REYTAs provide an opportunity for tourism businesses to have their investment, hard work and commitment recognised and rewarded.
"The REYTAs are a showcase for all that best about tourism in Hull & East Yorkshire and can raise the profile of a business significantly. Winning a REYTA will also allow a business the opportunity to progress through to the Visit England National Awards as well," he said.
Meanwhile Anthony Yates, VHEY's Visitor Economy Manager, described the awards as "a remarkable event celebrating a remarkable industry which contributes more than £797 million annually to the local economy and provides employment for over 17,000 people."
He said: "The REYTAs were created to recognise and reward both quality and achievement and provide an opportunity to showcase all that is remarkable in Hull and East Yorkshire. Over the eight years the awards have been running the bar has definitely been raised, which can only be a good thing for Hull and East Yorkshire as we strive to compete in a very competitive market place.
"We have more than 1,800 businesses who operate within the visitor economy in Hull and East Yorkshire and we know from past experience just how valuable and important winning a REYTA can be to their future success."
He said the REYTAs continued to grow in significance year on year with each year setting a record for entries. "Our winners are magnificent torch bearers for all that's good about Hull and East Yorkshire and will be readily identifiable with the area.
"Hull and East Yorkshire is proving itself to be one of the top choices for visitors from outside our region as well as offering fantastic choices for local people to enjoy all year round."
The full list of categories for the 2017 REYTAs are as follows:
1. REMARKABLE Hotel: open to hotels large and small that provide the best overnight stay and the highest standards of accommodation.
2. REMARKABLE Bed and Breakfast: open to all types of accommodation, including B&Bs, farmhouses, inns and restaurants with rooms.
3. REMARKABLE Self Catering Provider/Property: Open to all self-catering accommodation including serviced apartments, cottages, flats, lodges, tepees and yurts.
4. REMARKABLE Taste of East Yorkshire: Open to producers, processors or growers of local food and drink products as well as vineyards, breweries, farms, farm shops, delis and co-operatives. Entries must demonstrate creativity in their use or production of local produce, consistent quality in the delivery and presentation of food perhaps with a visitor experience and creative marketing.
5. REMARKABLE Cuppa/Afternoon Tea: Open to any tourism business that offers afternoon tea, for example a tearoom, café, hotel or visitor attraction, that serves the best afternoon tea and refreshments in Hull & East Yorkshire.
6. REMARKABLE Restaurant: The restaurant, hotel accommodation or pub that serves the best food in Hull & East Yorkshire.
7. REMARKABLE Pub: For the best pub in Hull and East Yorkshire serving the highest quality of bar food and beverages in the finest surroundings in the region.
8. REMARKABLE Conference and Meeting Venue: This award acknowledges the huge importance of the meetings, conferences and exhibitions sector in Hull & East Yorkshire. Open to any organisation in the business tourism sector including exhibition centres, convention hotels, country house properties, conference, banqueting and training venues.
9. REMARKABLE Holiday Park/Holiday Village: This award recognises Caravan & Holiday Parks, Touring Parks & Camping and Touring Parks that have boosted business by making the most of their distinctive appeal.
10. REMARKABLE Newcomer: This award is for a newcomer to the Hull & East Yorkshire tourism industry that have set up between 1st January 2015 and 30th June 2016. Individuals and tourism businesses may apply, including attractions/experiences, food & drink providers and accommodation establishments.
11. REMARKABLE Visitor Attraction/Experience: What is the best tourism attraction or experience in Hull & East Yorkshire that puts a smile on visitors' faces and creates special memories? This award will be given to the tourism attraction/ provider that delivers an outstanding and unique experience.
12. REMARKABLE Tourism Event: What is the best event, experience or festival in Hull and East Yorkshire that takes place over a day, weekend, week, month or season? The event can be free or paid for; a one-off happening or a rolling series of annual events. The experience can be related to a specific activity or a special package.
13. REMARKABLE Family Friendly Experience: Open to any food service, accommodation provider or visitor attraction that specialises in serving the family market. Whatever the style of business, it must be truly welcoming to families and provide excellent hospitality and service to all.
14: REMARKABLE Hull & East Yorkshire Passion for Arts and Culture: Open to individuals, organisations or groups who have made a major contribution to arts and culture in our region within the last five years. You may nominate a person or an organisation/group or alternatively you may wish to enter yourself for this award.
15: REMARKABLE East Yorkshire Passion: This person is selected by the Visit Hull & East Yorkshire Advisory Board Group who in their judgement has made a significant contribution to tourism in our region, as identified by the local tourism industry.