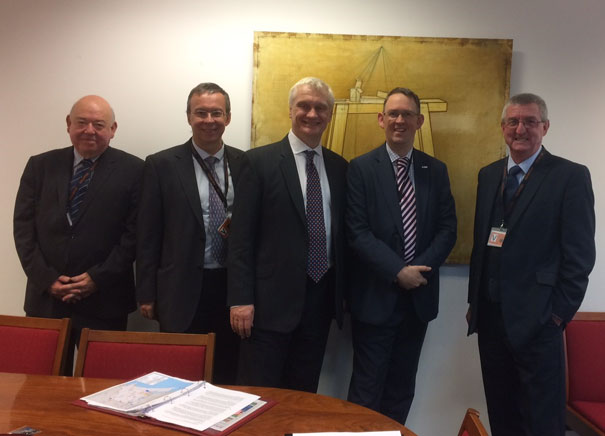 Beverley and Holderness MP Graham Stuart facilitated a key meeting with the Minster Rail Campaign and Parliamentary Under-Secretary of State Paul Maynard MP. Graham – a longstanding supporter of this campaign – set up the meeting with the Rail Minister, which took place on Wednesday 26 October at the Department for Transport.
The Minster Rail Campaign has been working since 2001 to reinstate the railway line joining Beverley, Market Weighton, Pocklington, Stamford Bridge and Haxby to the national rail network at York.
The group received advice from the Minister, who said he was acutely conscious to see all parts of the North get investment and that he would look at this rail scheme further to get a better understanding of where it sits within the wider region and other proposed railway projects.
Rail Minister Paul Maynard MP said:
"This is an exciting project and I am interested in the possibility the line represents as well as where it sits within the wider regional priorities."
Graham Stuart MP also offered to arrange a further meeting with the Local Enterprise Partnerships to discuss the possibility of funding for a Business Case Study and the projects inclusion in Network Rail plans for 2019-2024.
Speaking after the meeting, Graham said:
"The Minster Rail Campaign's scheme is an exciting proposal for Beverley and the East Riding and I was glad to get involved and help secure this important meeting. I think it represents a great opportunity for the region and it could be a workable answer to many of the traffic and congestion problems on the roads between Beverley and York."
Peter Hemmerman, Chairman of the Minster Rail Campaign said,
"Meeting the Minister was a great opportunity and I felt it was a positive and productive meeting. I am confident that the line will be built within the next few years and will bring massive benefits for the region and significant improvement in everyday travel for residents and visitors alike. We are indebted to the Rail Minster for his time and enthusiasm and to Graham Stuart and Roy Begg at the Beverley and Holderness Conservative Association for their help and support."
Mr Hemmerman added:
"It is important for people to understand that this project is not in competition with road improvements and that the feasibility study must show that the project will bring greater economic benefits than it costs – a study in 2005 did so. We just need to update that study in order to draw down central government funding for the project through Network Rail."
For more information about the Minster Rail Campaign please visit: http://www.minstersrail.net/