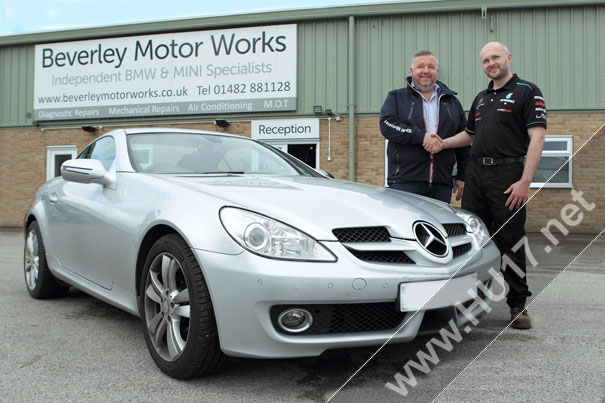 Beverley Motor Works have expanded their portfolio of high-end cars they are now able to provide even more specialist service after the new appointment of a time served Mercedes technician.
Wesley Hunt a Senior Technician trained by Mercedes joins Beverley Motor Works with 13 years of experience working with the prestigious motoring brand.
Richard Hayes co-founder of Beverley Motor Works, speaking about the appointment said;
"Over the past six years we have established ourselves in the town as a reputable business."
"As a garage we look after every make and model, we have the most up to date MOT facility, all the latest diagnostic equipment and we are the only garage in the North East that is Which Magazine Trusted Trader Approved and also part of the Good Garage Scheme."
"Wesley's arrival at Beverley Motor Works means we have added expertise to our workshop so we can further progress the business and look to attract more Mercedes customers."
"For our business the appointment of Wesley means we are now the only Mercedes Specialist in Beverley, customers who choose to use us can look to maintain their Mercedes will experience on average savings of 50% on what the local main dealers are charging."
Previously customers who owned a Mercedes needed to go to York or Hull to access such expertise but now this is available here in Beverley, Richard Hayes said;
"Owners of Mercedes now have a local port of call. As an independent garage we have the expertise in-house to maintain and diagnose faults on Mercedes cars and vans.
"In Wesley we have a Senior Technician that has trained with Mercedes he understands the brand and understands how to deliver it to Mercedes customers."
"All the work we undertake is carried out to the same high standards a main dealer and will not impact the resale value of the vehicle or the manufacturer's warranty."
"We use all original quality parts, oils and lubricants with all our cost's been completely transparent. We can update all the digital service books online with Mercedes leaving no difference between ourselves and the main dealers other than we will save the customer money."