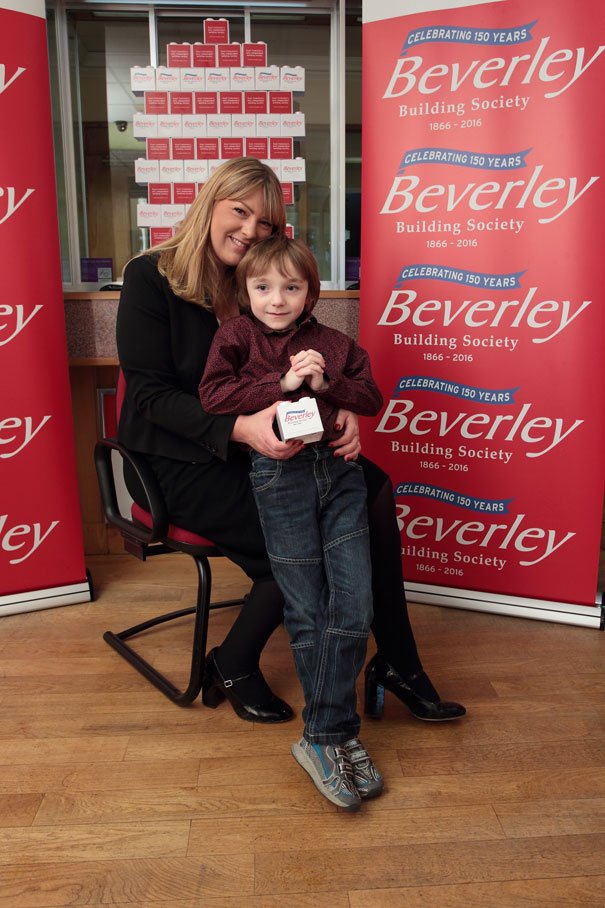 This year to celebrate their 150th Anniversary, Beverley Building Society is marking the occasion by announcing its annual charity partner for 2016 – Action Duchenne – researching a cure for Duchenne Muscular Dystrophy.
Chief Executive, Peter Myers and his team will support the charity which supports sufferers of the muscle wasting disease.
As the Head of Operations at the Beverley Building Society, Lesley Wegg's son, Ashley was diagnosed with Duchenne Muscular Dystrophy in 2014 and Lesley has become a Trustee of Action Duchenne. She says:
"Both the charity and my family and I personally are absolutely delighted that the Beverley Building Society has chosen to support us in their 150th Anniversary year. Already the team has a number of fundraising events planned including a parachute jump and a bungee event."
"Sadly, Duchenne Muscular Dystrophy is the most common fatal genetic disorder diagnosed in childhood, affecting approximately 1 in every 3,500 live male births and there are around 2500 people with DMD in the UK."
"Duchenne is the most severe of the 60 types of muscular dystrophy and is the biggest genetic killer of children. Life expectancy has improved over the last 5 years to mid-twenties but there is currently no cure and the only treatment licensed in the UK currently is steroids which causes many side effects."
"Because the Duchenne gene is found on the X-chromosome, it primarily affects boys with less than 1% of those with Duchenne being female. However, it occurs across all races and cultures."
"Sufferers of Duchenne gradually become paralysed from the legs upwards and boys rely on carers to feed them. Muscles continue to weaken with breathing becoming too difficult so ventilators are needed. Eventually chest and heart complications tend to end their short lives."
"Action Duchenne is currently helping to fund research into a treatment and also for clinicians to run clinical trials with emerging drugs which have taken decades to reach trial status."
Peter Myers, Chief Executive of Beverley Building Society says:
"I am pleased that we are able to support Action Duchenne as working with Lesley, we have seen how tirelessly she works to raise funds for the charity and we really wanted to help."
"We have a programme of events running throughout 2016 to help us celebrate 150 years of serving the local community and supporting a charity was a vital part of that activity."
"Events include a special celebratory reception at Beverley Racecourse for our members and also a number of charity fundraisers including: a Skydive, a 119 mph Zip Line, a Shark Dive and places area available on the Great North Run."
For more information about Action Duchenne and other events for this year please call Ed Davies on 01482 881510.