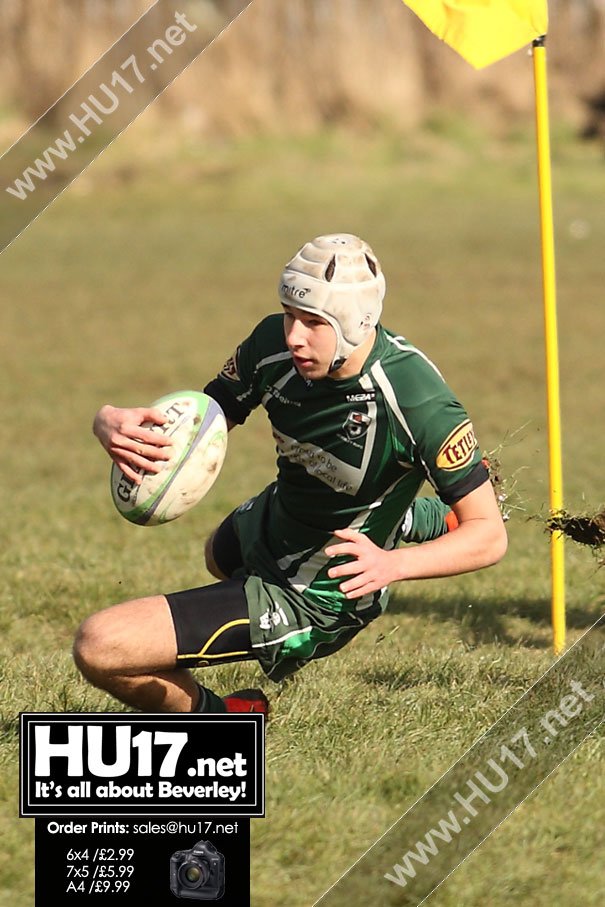 Beverley RUFC Colts made light work of Yarnbury as they smashed them 65-5 at Beaver Park.
Victory has put the Colts firmly in the driving seat at the top of the table ahead of Scunthorpe a side they face next week.
Chris Chapman (3), Luke Hazell, Alfie Hart – Fisher, Jockey Holmes, Harrison Mayou, Conor Egan, Conor Egan, Andy Rowbothom, Jake Marin and Benjamin Jackson all scoring as the Colts run riot claiming a comprehensive victory.
Speaking after the match Beverley's Joey Franklin said;
"Everything we touched seem to turn into tries today."
"We have a real opportunity to do the double this season. Our main concentration is to win the league but the cup would top off a great season perfectly."
"I thought we played our best rugby all season today and when it got tough the lads pulled together and got through it."
"Chris Chapman at 11 had a fantastic game and he was reward with three tries in the game. Jacob 'dobbie' Holmes added a great try then decided to go off as his work for the day was done."
"Chapman was outstanding, as was the two flankers, Lewis 'GShore' Szrama and Jake Marin who was back where he belongs in the number 7 shirt."
Beverley took just four minutes to open the scoring and when they started they never stopped taking a 36-0 lead into the beak.
In the second period Beverley continued where they left off adding a further 29 points to their tally while the visitors managed to put 5 points on the board.
Sitting at the top of the table the Colts now have a crunch match next week, that if it goes their way will be crowned champions, commenting on the forth coming fixture Franklin said;
"If we win our next game Scunthorpe who are currently second we will win the league. It won't be simple they will be coming to ruin the party."
Final Score: Beverley RUFC Colts 65 Yarnbury 5