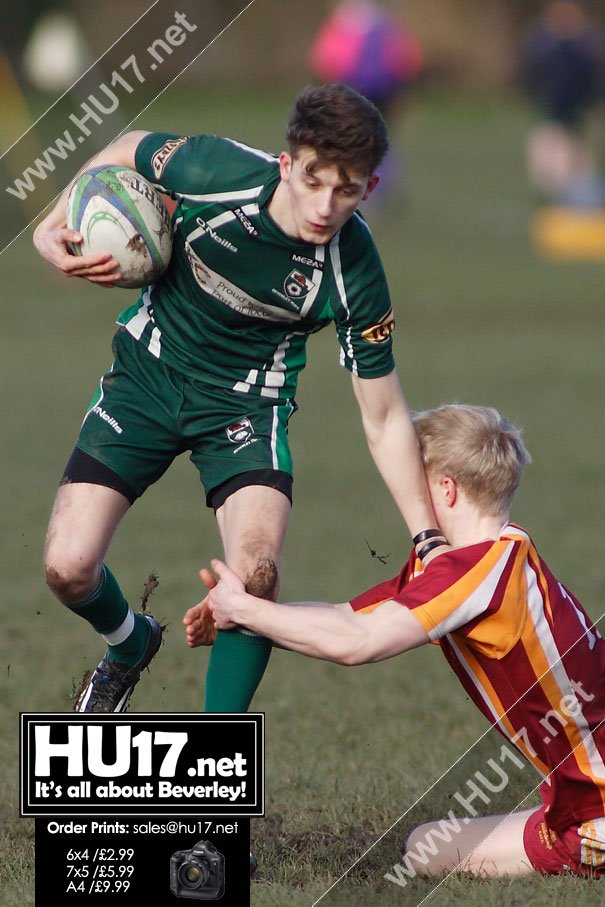 Beverley RUFC Colts reached the semi-final of the Yorkshire Cup this weekend as they overcame Middlesbrough at Beaver Park.
Beverley went into the match as under dogs as they faced a side that play their rugby in high league however playing at home Beverley showed their class to claim the win.
This is the second year running the club have reached the semi final of the Yorkshire Cup and they have been rewarded with home tie against Old Brodleians which will be played on the 20 March.
Coach Phil Rann commenting on the game said;
"The disappointment of last week was firmly put behind us with a fine win against Middlesbrough ."
"We were forced to do some hasty rearranging of our normal play at the lineout due to a late with drawl from the side but today the lineout's were still hit and the forwards adjusted very well."
Beverley opened the scoring when Chris Chapman saw a gap and went through it, fine support Jake Marin saw him sprint down the line and in under the posts for the first score.
With strong play from both sides Beverley were again pressing the Middlesbrough line when Middlesbrough were adjudged to have handled in the ruck. Sensible heads saw a shot at goal by Joey Franklin sail through the uprights.
Luke Hazell strolled past the opposition going in near the corner extending Beverley's thought they were unable to make the conversion.
During every game there always seems to be a period where Beverley give away penalties and this turns into a stream.
This period came just before halftime. After a long series of pick and drives with some very fine defence from Beverley, Middlesbrough finally breached the line out wide.
In the second period after some good pressure by Beverley Middlesbrough were penalised for holding on in the ruck. Franklin stepped up and stroked the ball over.
Middlesbrough did manage to get on a score sheet after as they capitalised on handling error to get what proved to be their only points of the match.
As nerves started to show Hazel sealed the deal for Beverley as scored his second of the match with Franklin adding the extra points.
Rann added;
"This is the second consecutive year we have made the semi-final of the Yorkshire Cup and I hope we can go one better than last year and make it into the final."
Final Score: Beverley RUFC Colts 25 Middlesbrough 10