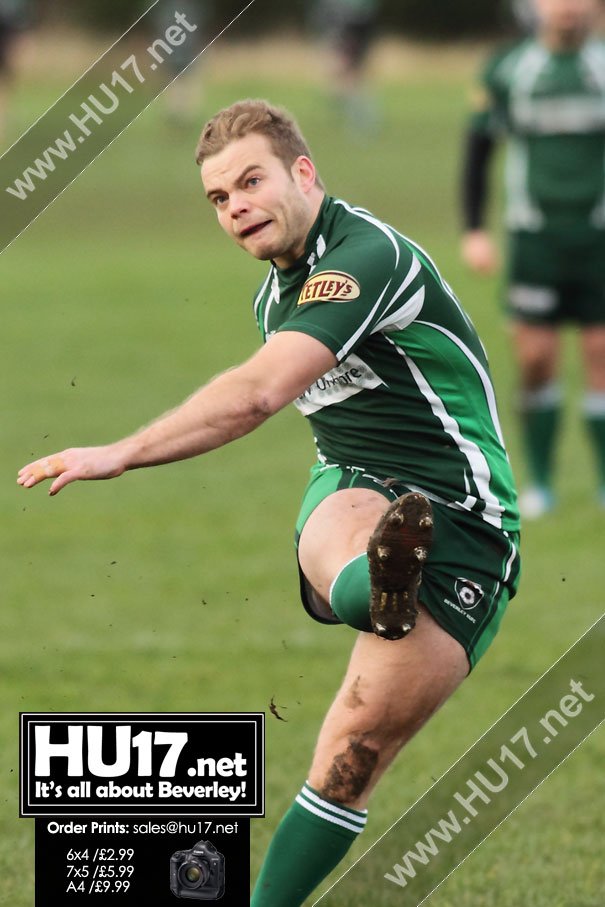 What a day for rugby. Incessant rain intermingled with occasional snow persisted throughout and in near freezing temperatures. Surprisingly in spite of the conditions both sides managed to maintain a reasonable standard of rugby. By the end it had largely become a melee of indistinguishable bodies grappling in the mud but for most of the game there had been plenty of endeavour and movement.
Percy Park won because they adapted better to the conditions and kicked better. Yet overall Beverley were unlucky. They may not have deserved to win but neither did they deserve to lose by nineteen points. They won plenty of good ball and moved it ambitiously, but it was not a day for running rugby. Percy Park in contrast were seldom slow in putting boot to ball and getting it deep into Beverley territory to good effect.
Beverley were undone by four first half tries, all of which stemmed from Percy Park kicks into the Beverley 22. The first came within two minutes of the start, originating from deep in home territory. A chip over the Beverley attacking line followed by a lucky bounce and catch got Percy Park up to halfway from where the ball found its way into touch on the Beverley 22. From the line-out the home pack drove over for the game's opening score.
There immediately followed an unwelcome delay of some ten minutes while an injured home player was attended to and carried from the field on a stretcher. Beverley then had the better of the play and were desperately unlucky to go further behind. An attacking Beverley kick on halfway rebounded off a home forward who hacked it deep into the empty Beverley half and followed it up with a kick and chase to the line. A score was somehow averted but Percy Park were awarded the five metre scrum in the corner and when the ball was moved across field they went over on the far side.
Phil Duboulay kicked a penalty to get Beverley back into it but another long Percy Park kick to the corner brought another try to stretch the home lead. A fourth try came just before halftime when Percy Park kicked to the 22 from a penalty near halfway. They won the line-out and their pack again drove over. Four times Percy Park had been in the Beverley 22 and four times they had come away with a score.
Beverley's hopes were briefly raised deep into added time at the interval when they got
a fine opportunist try by Harrison Mayou. Jamie Gill fielded the ball on halfway from a home clearance kick and quickly released it to Mayou. The winger sprinted away down the right touchline and although he went to ground just short of the line the slithery conditions carried him over.
The second half was again an evenly fought affair but having turned round 22-8 down it was always going to be an uphill struggle for Beverley. But they made a good fist of it. There was plenty of attacking play and some particularly exciting running by Ben Naylor on the left wing. But generally Beverley's attacking game foundered in the heavy going and the home line was seldom threatened. Percy Park got on top as the game petered out and shortly before the end got their fifth try. It sealed a win that looked far more emphatic on paper than the evenness of the play warranted.
Final Score: Percy Park 27  Beverley RUFC 8 | Reported by John Nursey