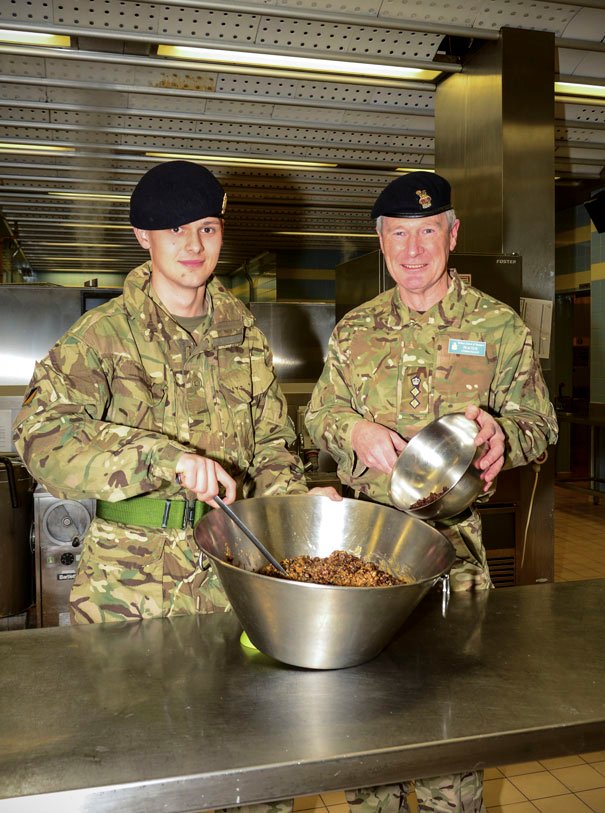 The festive tradition of the youngest soldier stirring the Christmas pudding at the World's largest driving school has fallen to a 17 year old Private from Sleaford.
Accompanied by the most senior officer in the unit, Commandant, Colonel Rob Peacock, the pair stirred the Christmas Pudding mixture in the kitchens at the Defence School of Transport, Leconfield.
Private Jacques Hill who was born in Cambridge and later moved to Sleaford, Lincolnshire said:
"I've never made a Christmas pudding before – I don't really like it. However, it is good to keep traditions such as this and a lot of my friends here enjoy their Christmas pud."
A fan of the festive pud, Colonel Peacock said:
"I love it, Christmas wouldn't be the same without a generous helping of well-made Christmas pudding."
This year's Christmas pudding was prepared at Normandy Barracks under the eagle eye of experienced Sodexo chef, Peter Harrison.
He explained the secret of a good Christmas pudding:
"This one will mature in a deep dark corner of the Junior Ranks Diner before we serve it to the students at their annual Christmas Dinner."
While the pudding matures, Jacques will continue his driver training in the hope of gaining his Category C driving licence before returning to his family at Christmas.
In Victorian times, families gathered together in their kitchens and parents would teach their children how to make the traditional Christmas pudding. As each family member stirred the mix they would make a special wish.
Colonel Peacock and Jacques made wishes for the year ahead as they stirred but these remain secret, they both agreed that if you share a wish, it's unlikely to come true!